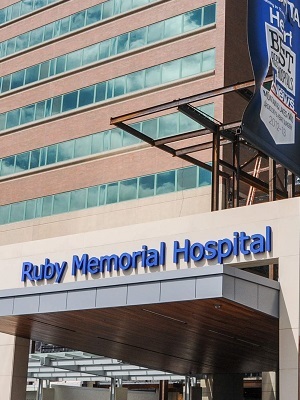 MORGANTOWN – A Fairmont couple is suing the West Virginia University Board of Governors after they claim injuries were sustained on its property.
University Health Associates Inc. and WVU Hospitals Inc. were also named as defendants in the suit.
On June 26, 2013, Cindy S. Stoller was visiting her sister, who was a patient at Ruby Memorial Hospital's ninth floor, when she slipped and fell as a result of a dangerous condition on the defendants' property, according to a complaint filed June 16 in Monongalia Circuit Court.
Stoller claims the defendants placed or permitted to be placed, a substance on the floor where she was walking, without adequate warning, which caused her to fall and suffer permanent and disabling injuries.
As a result of the defendants' negligence, Stoller sustained injuries and severe pain and mental anguish, according to the suit.
Stoller and her husband, Robert K. Stoller, are seeking compensatory damages with pre- and post-judgment interest. They are being represented by John R. Angotti and David J. Straface of Angotti & Straface LC.
Monongalia Circuit Court case number: 15-C-383