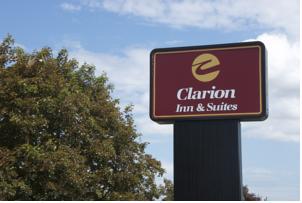 CLARKSBURG – Amrapur Hotels-Fairmont is suing GoFrac LLC after it claims the company owes nearly $200,000 for rooms it rented in 2014.
Amrapur Hotels-Fairmont LP is doing business as the Clarion Inn.
In July 2013, GoFrac began to periodically rent hotel rooms at the Clarion Inn when its employees were in Fairmont, according to a complaint filed March 12 in the U.S. District Court for the Northern District of West Virginia.
Amrapur claims in July 2013 and April 2014, GoFrac timely paid its invoices in full.
In October, GoFrac rented 34 rooms per night for Oct. 25 through Oct. 30 and on Oct. 29, GoFrac informed the Clarion Inn that it would be doubling its local crew over the next few months and inquired about negotiating a lower room rate, according to the suit.
Amrapur claims they negotiated a lower room rate of $89.60 per night and between Nov. 13 and Dec. 24, GoFrac rented a total of 404 rooms on seven different occasions.
GoFrac owed $278,806.43 for the visits and eventually made two partial payments totaling $110,000.03, according to the suit. GoFrac has not paid the remaining $168,806.40.
Amrapur claims the general manager of the Clarion Inn has made several attempts to resolve the matter with GoFrac and its accounts payable manager, but to no avail.
GoFrac breached its contract with Amrapur by failing to pay the agreed upon rate and failing to make its full payment for the rooms it was provided, according to the suit.
Amrapur claims GoFrac knew or should have known that its conduct evidencing such promise to pay would induce the plaintiff to permit them to stay at the hotel and Amrapur substantially and reasonably relied upon GoFrac's promise that it would pay for the rooms.
GoFrac has been unjustly enriched at Amrapur's expense, according to the suit.
Amrapur is seeking judgment in the amount of $168,806.40 with interest. It is being represented by Matt A. Jarrell of Sherrard, German & Kelly PC.
The case is assigned to District Judge Irene M. Keeley.
U.S. District Court for the Northern District of West Virginia case number: 1:15-cv-00046