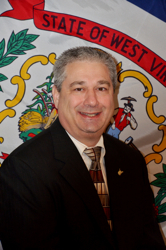 CHARLESTON – A woman is suing West Virginia Department of Corrections after she claims it violated the West Virginia Human Rights Act.
Deputy Commissioner James Ielapi was also named as a defendant in the suit.
On Feb. 1, 2012, Kathleen A. Carroll was hired by WVDOC as an administrative services manager and human resources director and on April 18, 2012, through April 20, 2012, Carroll was attending a leadership training at Canaan Valley when, during the training, Ielapi expressed a desire to come to her room and bring her alcohol, according to a complaint filed March 12 in Kanawha Circuit Court.
Carroll claims Ielapi also made it a point to touch her, hug her and flirt with her, even though she told him to stop touching her.
On April 27, 2012, Carroll attended the employee award ceremony at Glenville and there, Ielapi touched her arm, hand and lower back when he was near her and she again told him to stop, according to the suit.
Carroll claims on May 6, 2012, through May 8, 2012, a mock riot was staged at Moundsville and while there, Ielapi had Bryan Arthur, a co-worker, call her to come down to the casino because he wanted to see her, but she did not go.
Ielapi bought Carroll a t-shirt and when he presented it to her, he pointed to her chest and stated that the shirt might not fit, referencing the size of her breasts, and made a point to touch her arm, hand or lower back when he got close to her, at which time Carroll informed him that what he was doing was inappropriate, according to the suit.
Carroll claims Ielapi's actions continued throughout the rest of 2012 and 2013.
Carroll filed two complaints with the Human Rights Commission and on April 28, 2014, she was suspended for 30 days without pay and on May 22, her employment was terminated, according to the suit.
Carroll claims she was sexually harassed and a victim of discrimination.
Carroll is seeking compensatory and punitive damages. She is being represented by Matthew S. Criswell and Mark L. French of Criswell French PLLC.
The case is assigned to Circuit Judge Joanna Tabit.
Kanawha Circuit Court case number: 15-C-498