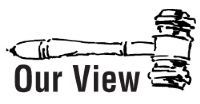 State Attorney General Darrell "Quick Draw" McGraw may say he doesn't like out-of-state special interest groups interfering in West Virginia politics, but he's willing to make an exception for outside interests meddling on his behalf.

One such group, the Democratic Attorneys General Association (DAGA), appears to be the source of funding for the late-summer TV marathon of pro-McGraw advertising.

The August ads supporting McGraw's bid for a sixth term were paid for by the so-called Committee for American Fairness, to which DAGA contributed $275,000 in August and another $250,000 in late September.

Another group allegedly dedicated to "fairness," however broadly defined, is the Mountaineer Committee for Justice & Fairness, which is poised to make its own contribution to the broadcast onslaught of pro-McGraw messaging. The group made a mid-October payment of $345,000 to LUC Media Inc for what apparently will be a TV spot portraying McGraw's challenger, Harper's Ferry Republican Patrick Morrisey, in a negative light.

The Mountaineer Committee shares an email address and a Washington DC post office box with the Committee for American Fairness and, like the committee, received a donation from DAGA sufficient to cover its media purchase.

DAGA, the financial backer of the two groups supporting McGraw's reelection bid, has received contributions from lawyers and law firms that have benefited from their association with old Quick Draw in the past – and, presumably, hope to do so again in the future.

Washington, D.C., law firm Cohen, Milstein, Hausfeld & Toll, for instance, which shared in the proceeds from West Virginia's 2004 OxyContin settlement with Purdue Pharma, recently kicked in $25,000 to DAGA.

Spokespeople for McGraw deny knowledge of these expenditures on their boss's behalf, but the fact remains, as in past McGraw campaigns, that much of the money put up to ensure his reelection is coming from special interests –- inside and outside West Virginia -– that one can assume have reasonable hopes of benefiting financially from old Quick Draw's sixth term.