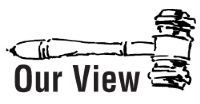 "We're not going to roll over."

That's a phrase we're beginning to hear more and more -- from business owners refusing to be preyed upon by unscrupulous lawyers with bogus claims, or fighting back against overzealous bureaucrats whose illogical rules and arbitrary penalties stifle enterprise.

We like the sound of that defiant proclamation, and the look of consternation on the faces of the foolhardy attorneys and governmental czars who have gone too far and aroused the wrath of productive, law-abiding American businessman.

It began with a few brave souls determined to stand up for their rights when no one else would, seeing little chance of success, hoping they'd done the right thing, wondering if they should have buckled under -- rolled over -- like others have.

But the others are watching. They're also tired of the abuse, and ashamed of submitting to it. They wish they had the nerve to stand up. And some of them, inspired by the courage of the defiant few, discover that they do have the nerve, and they too rebel.

The next thing you know, there's an all-out revolution -- a nonviolent revolution -- and some of the oppressors are starting to run scared, because the parasitic attorneys and bureaucrats who feed on the productive members of society really are bluffing bullies.

The owners of the Mingo Logan Coal Company are setting an example for the rest of us. They're mad as hell and they're not going to take it anymore. They've had enough. They're not going to roll over.

They've hired former U.S. Solicitor General Paul Clement to represent them in litigation against the Environmental Protection Agency, presumably in an appeal to the U.S. Supreme Court of the agency's de facto revocation in 2009 of a permit issued to Mingo by the Corps of Engineers two years earlier.

We wish the coal company good luck -- and hope it will inspire others to stand up and fight for what they believe is right.