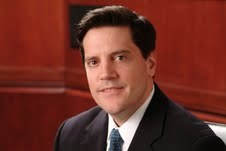 CHARLESTON — The law firm Spilman Thomas & Battle, PLLC (Spilman) announced that firm members re-elected Michael J. Basile to the position of managing member.

He is currently serving in his 10th year in this leadership role and will serve an additional three years with his re-election.

"Mike is doing an outstanding job of moving Spilman forward in the growth and development of our practice," said David P. Ferretti, Member in Charge of Lawyer Administration. "This vote signals the firm's continued confidence in his leadership and vision."

In addition to his leadership role, Basile maintains a state and local government relations law practice focused on issues and policy affecting economic development, such as regulatory reform, transportation, taxation, incentives, property rights and environmental law issues associated with the natural gas segment of the Appalachian region's economy. He was directly involved in developing and promoting The Marcellus Development Act in West Virginia, as well as reviewing and providing commentary on West Virginia's omnibus legislation and corresponding rules governing horizontal drilling.

Basile is the current Chairman of the Charleston Inter-Regional Chamber of Commerce, Vice Chairman of the Charleston Area Alliance. He is a board member of both West Virginia: A Vision Shared and Discover the Real West Virginia.

Basile earned his undergraduate degree from West Virginia University and his law degree from the University of Pittsburgh. He has been recognized by West Virginia Super Lawyers, The Best Lawyers in America® and Chambers USA for excellence in his law practice.

Spilman Thomas & Battle is a full-service law firm with more than 140 attorneys. Founded in 1864, Spilman has offices in Charleston, Morgantown and Wheeling; Harrisburg and Pittsburgh, Pa.; Winston-Salem, N.C.; and Roanoke, Va. For more information, visit www.spilmanlaw.com.