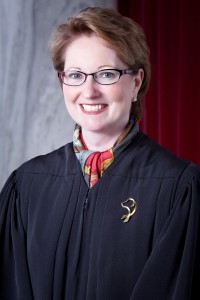 CHARLESTON – Supreme Court Justice Robin Davis is not happy with her colleagues' decision in a lawsuit brought by former shareholders of Massey Energy that sought to have its former board of directors held in civil contempt following the fatal 2010 Upper Big Branch Mine explosion.

Davis released a dissenting opinion on Sept. 27, two weeks after the majority opinion ruled the shareholders had no standing to pursue their claims.

"Words cannot express how frustrated I am by the patently unfair result occasioned by the majority's decision in this case," Davis' dissent begins.

The lawsuit alleged Massey Energy was in violation of a 2008 settlement that resolved claims that the company's board of directors and some officers breached their fiduciary duties by consciously failing to enforce certain environmental and worker-safety laws and regulations.

Eleven days after the 2010 explosion at Upper Big Branch Mine that killed 29 miners, the shareholders claimed the defendants were in violation of the corporate governance agreement because Massey's 2008 Corporate Social Responsibility Report "contains no report on the Company's… worker safety compliance," as required by the CGA.

Massey was sold to Alpha Natural Resources in 2011. Massey's entire board of directors was replaced, and Kanawha County Circuit Court Judge James Stucky ruled the CGA was rendered inoperative.

Manville Personal Injury Settlement Trust, Amalgamated Bank and California State Teachers' Retirement System were the former shareholders appealing Stucky's ruling. They were represented by attorneys from Motley Rice, and Badge Humphries handled oral arguments.

Davis expressed frustration that members of Massey's board of directors won't be held accountable for their actions.

"(T)he devil-may-care attitude exhibited by the Massey Board towards its obligation to implement mine safety standards became abundantly apparent when 29 coal miners died in Massey's Upper Big Branch Mine," she wrote.

"Countless other West Virginia coal miners undoubtedly also have been injured and endangered by the Massey Board's failure to do what it said it would do, what it has been told by the circuit court to do, and what it is required to do under mine safety laws.

"Regretfully, however, the majority's decision in this case not only forgives the Massey Board for its misdeeds, but also fails to hold accountable those individuals whose callousness cost 29 miners their lives – men who went to work one day at the Upper Big Branch Mine and who were prevented from returning home to the families waiting for them."

The majority opinion took the defendants' suggestion to not be swayed by emotions raised by the fatal explosion. The defendants' brief said the court had to strictly decide if the shareholders lost their standing when they voluntarily relinquished their Massey shares and whether the defendants are no longer in a position to cause Massey to comply with the 2008 order.

The opinion said the case was subject to Delaware law.

"The two contempt petitions, which raised compliance issues with regard to the June 30, 2008, settlement order, while suggesting indirect harm to the petitioners, alleged, in reality, claims against the respondents for the benefit of the former Massey Energy Company," Justice Menis Ketchum wrote for the majority.

"Therefore, as in the underlying action, the two contempt petitions were grounded on derivative claims."

Chief Justice Brent Benjamin did not participate in the case. The U.S. Supreme Court ruled in 2009 that Benjamin should have recused himself in a case against Massey because Blankenship spent several million dollars supporting his 2004 campaign.

Taking his place was former Justice Thomas McHugh.

Davis said the harm done by the majority is irreversible.

"Massey Energy has now been subsumed by Alpha Appalachia Holdings, Inc., and thus, the Massey Board is no more," she wrote.

"Thirteen individuals, who held the fate of countless miners in their hands, can no longer be held accountable for their complacency with their status quo of evading compliance with mine safety regulations. This result is not fair, and it is not the right thing to do."

From the West Virginia Record: Reach John O'Brien at jobrienwv@gmail.com.