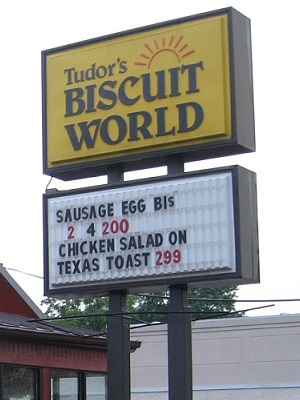 POINT PLEASANT – An Ohio couple claims a trip to a Mason County breakfast eatery ended in injury.
Janet and Dennis Donohue filed a complaint against Tudor's Biscuit World and the Town of Mason in Mason Circuit Court. Better Foods Inc., the parent company of Tudor's, and Chrisliz LLC dba Tudor's are named as defendants.
According to the complaint, the Pomeroy couple was visiting the Tudor's location in Mason on June 6, 2013, when they legally parked in a handicapped space. When Janet Donohue exited the car, she fell into an exposed hole around a manhole cover. She fractured her wrist and suffered additional injuries that required medical attention.
She says she has endured pain and suffering, impairment of her ability to enjoy life, humiliation, embarrassment, annoyance, aggravation and mental anguish.
The Donohues claim Better Foods, Chrisliz LLC and the Town of Mason all are negligent. They seek compensatory and punitive damages, pre- and post-judgment interest, attorney fees, court costs, expenses and other relief.
They are represented by Eric J. Holmes and Kevin C. Harris of the Law Offices of Harris and Holmes PLLC in Ripley. The case has been assigned to Circuit Judge David Nibert.
Mason Circuit Court case number: 15-C-75