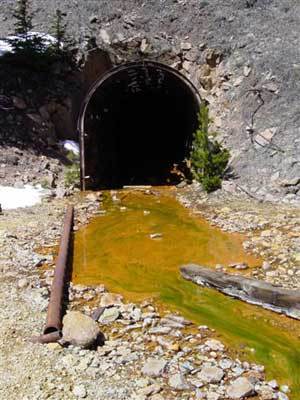 LOGAN – A Logan County woman wants the state to do something about the effects of abandoned mines on her property.
Sue Ann Richardson filed a complaint against the West Virginia Department of Environmental Protection's Office of Abandoned Mine Lands and Reclamation and Acting Director Harold Ward. The suit was filed last month in Logan Circuit Court.
Richardson, who lives in Chapmanville, says an artesian spring of acid mine drainage with visible levels of aluminum flows out of the ground on her property at a rate of 5-20 gallons per minute. She says much of the drainage flows into a channel and runs across her property, causing severe erosion to the surface as well as damage to structure foundations, including her driveway and garage.
"Some of the AMD from the abandoned mine or mines does not flow into the channel, but instead seeps into and saturates the ground around plaintiff's residence, causing or threatening to cause severe foundation damage to her dwelling," the complaint states. "In addition, the AMD that saturates and crosses plaintiff's residential yard has unknown health risks and toxic characteristics, the potential for which not only threatens the health and well-being of plaintiff, her husband, and her visitors and guests, but also renders the yard unsuitable for its intended uses, such as recreational space for plaintiff and plaintiff's grandchildren."
Richardson also said the AMD indicates a potential for a "blowout" that could have severe health effects on her and others on her property. She says it could have adverse impacts on health, safety and property downstream as well.
She says the Office of Abandoned Mine Lands has known about the need for remediation and re-vegetation since at least 2008 when it prepared a General Environmental Assessment for Vickers Branch (Butcher) Drainage. She says the mine in question has been abandoned since at least Aug. 3, 1977.
Richardson accuses the OAML and Ward of violating a non-discretionary duty to remedy the situation.
She seeks a writ of mandamus compelling the defendants to fulfill their duty to use funds to remediate her property. She also seeks damages caused by the defendants' violations of their duties in an amount not exceeding their liability insurance policy.
Richardson is being represented by Stuart Calwell, Alex McLaughlin and D. Christopher Hedges of The Calwell Practice PLLC in Charleston. The case has been assigned to Circuit Judge William Douglas Witten.
Logan Circuit Court case number: 15-C-230