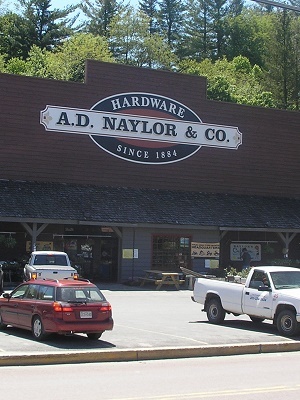 KINGWOOD – A Preston County couple says Ace Hardware isn't exactly the helpful hardware place it claims to be in its advertising after the man says he nearly died using a piece of rental equipment.
Michael L. and Crystal L. Frantz of Terra Alta filed their lawsuit against Ace Hardware Corporation, which is based in Illinois, and A.D. Naylor & Co. Inc. of Oakland, Md., last month in Preston Circuit Court.
In the complaint, Michel Frantz said he contacted Naylor's Ace Hardware on Aug. 30, 2013, to ask about drain-cleaning equipment for his septic system. An employee of Naylor's said the store had an Easy Rooter, an electric device with a long cable to unclog a drain.
When he arrived at the store, Frantz entered into a verbal lease agreement to rent "the most powerful Easy Rooter available," one with a 100-foot metal cable.
"At no time did Naylor's or any of its agents, servants or employees inquire whether Mr. Frantz had any experience using or operating the Easy Rooter, which he did not," the complaint states. "Mr. Frantz received no verbal or written instructions about the Easy Rooter, was not provided with a copy, nor otherwise apprised of, the manufacturer's operating instructions, or any other instructional material …"
At his home, he unloaded the Easy Rooter, plugged it into an outlet in his garage and withdrew several feet of cable to start the process of unclogging the drain.
"Frantz went down on at least one knee to get lower to the ground so he could begin to insert the cable into the pipe and unclog the drain, and as he inserted the head of the cable into the pipe and made contact with the water, he immediately was shocked severely," the complaint states. "From the house, Mrs. Frantz, to her horror, observed her husband being shocked, and had rushed to his side.
"Mrs. Frantz immediately went outside and attempted to pull her husband away from the Easy Rooter. As Mrs. Frantz attempted to rescue her husband, she received an electrical shock and felt her arm go numb."
Michael Frantz was airlifted to Ruby Memorial Hospital in Morgantown, where he remained hospitalized for three days.
In the complaint, Frantz says he didn't know the outlet in his garage wasn't properly grounded and that the Easy Rooter wasn't equipped with a safety device to prevent a shock to the operator when used in its normal and intended mode.
Michael Frantz says he sustained severe, permanent and debilitating injuries, including neurological trauma as well as burns, scarring and disfigurement that have caused clinical manifestations of multiple sclerosis, seizures, dizziness, severe headaches and other effects. He also says he has to travel to Morgantown for medical treatment at additional expense.
He says he is limited in his ability to work fully and to perform many of his daily activities, and he says he suffers from severe emotional distress and physical disability and is restricted in the companionship he can share with his wife.
Crystal Frantz says she also suffered burns from the shock she received, and she suffers from several emotional distress from seeing her husband shocked and nearly dying beside her. She says she suffers from the deterioration of her relationship with her husband as well.
The accuse Ace and Naylor's of negligence, breach of implied warranties of merchantability, fitness for particular purpose, strict liability and failure to warn.
They seek compensatory damages for medical and emotional injuries, medical bills and other care expenses, Michael Frantz's lost wages and the diminution of his ability to earn money. Crystal Frantz seeks damages for medical and emotional injuries and loss of consortium. They also seek punitive damages, pre- and post-judgment interest, attorney fees, court costs and other relief.
The couple is being represented by John C. Palmer IV, Stephen D. Annand and Keith J. George of Robinson McElwee in Charleston and Rod Jackson of the Law Office of P. Rodney Jackson in Charleston.
Preston Circuit Court case number: 15-C-116