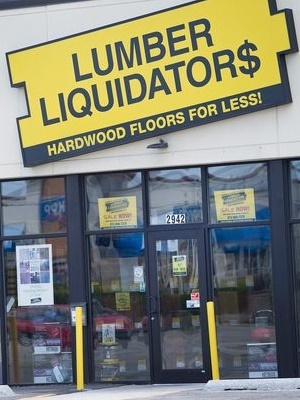 CLARKSBURG – Two West Virginia women have filed a proposed class action lawsuit against Lumber Liquidators Inc., alleging that a line of Chinese wood flooring sold by the company emits "excessive" levels of formaldehyde and has cost them thousands of dollars.
Plaintiffs Liz Elson and Michelle Lewis filed their lawsuit last month in the U.S. District Court for the Northern District of West Virginia.
In their 17-page complaint, the plaintiffs point to a March report by CBS' news show "60 Minutes." According to the report, the company's laminate wood flooring emits formaldehyde gas as "toxic levels that exceed strict state and federal standards for such emissions."
The lawsuit states that Lumber Liquidators sells the laminate wood flooring in the 19 stores it operates in West Virginia. Hundreds of similar suits have been filed across the country since the "60 Minutes" report.
"The result is that West Virginia consumers, like plaintiffs, have purchased unsafe laminate flooring, and Lumber Liquidators continues to sell unsafe flooring to West Virginia consumers," Elson and Lewis allege.
The International Agency for Research on Cancer and the National Institute for Environmental Health Sciences both classify formaldehyde as a human carcinogen. A carcinogen is a substance or agent suspected to cause cancer.
Short-term health effects from exposure to formaldehyde -- a colorless, flammable chemical -- include burning sensations in the eyes, nose and throat; coughing; wheezing; nausea; and skin irritation.
Elson and Lewis allege that after learning of the 60 Minutes story, they tried contacting Lumber Liquidators to repudiate their sales and return the flooring. At the time of filing their complaint, they still had not been reimbursed for their purchases, including materials and installation and the costs of replacing the flooring.
Elson alleges she paid more than $3,700 for the purchase of 12mm KM Warm Springs Chestnut Laminate Flooring from the company's Wheeling store.
Lewis alleges she paid more than $2,200 for the purchase of 12mm ISP American Mission Olive Laminate Flooring, also from the Wheeling store.
The plaintiffs seek to represent similarly situated persons in West Virginia who have purchased the Chinese laminate wood flooring and were sold from March 1, 2011, to the date of judgment.
"Lumber Liquidators failed to properly investigate and inform customers regarding the formaldehyde emissions problems associated with its products," the proposed class action states.
"Had Defendant adequately and fairly represented its products, Plaintiffs and the Class would not have purchased these products and would not incur additional damages in returning these products to Lumber Liquidators.
"Lumber Liquidators' violations of law and systemic warranty breaches have caused, and will continue to cause, significant financial harm to plaintiffs and the Class."
The plaintiffs, who do not assert claims for any personal injury damages, argue the class is entitled to a return of the full purchase price paid for the Chinese-made laminate flooring and other associated damages.
They seek compensatory and consequential damages, equitable and injunctive relief, punitive damages, costs and attorneys' fees.
Charleston law firm Bailey & Glasser LLP is representing the plaintiffs in the lawsuit. The case has been assigned to Judge John Preston Bailey.
U.S. District Court for the Northern District of West Virginia; case number 5:15-CV-107