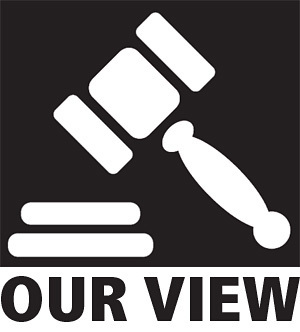 Story Copy
Something's been puzzling us for some time: Where are all the class-action slip-and-fall or trip-and-fall lawsuits?
There are class action suits for almost everything imaginable, but nary a one for falls resulting from slips or trips. Why is that?
If the alleged hazards to which litigants attribute their accidents were so completely inconspicuous and utterly unavoidable, and their own ostensibly irreproachable behavior not a factor in their downfalls, why aren't there thousands or at least hundreds or even dozens of other victims suffering the same consequences under the same circumstances at the same locations and lodging complaints for similar mishaps and injuries?
If the alleged hazards were really hazardous, surely those hazards would claim the number of victims that true hazards claim and those victims would constitute a substantial, potential class, eventually finding each other (or be found by a friendly attorney), and combining forces in pursuit of compensatory justice.
But it's almost always one person – and one person only – who's slipped on that perilous sprig of parsley on the floor of the produce section at the Spend & Save or who's tumbled headlong into the quarry-sized pothole on a barricaded stretch of unfinished highway.
Take those dastardly raised bolts on that notorious stretch of sidewalk in downtown Huntington, for instance. You know the spot we're talking about, right, and the bolts in question?
Drawing a blank? Well, maybe they've been fixed by now, but, oh boy, two years ago, were they dangerous!
According to Don Handley, anyway – the one fellow who tripped on them, on that fateful December day in 2013.
Now, two years later, Handley has filed suit in Cabell Circuit Court against the City of Huntington, accusing the municipality of negligence in improperly maintaining said sidewalk and failing to warn of the hazard.
If Handley could find even one other person who tripped on those bolts, he might have the makings of a class action suit!