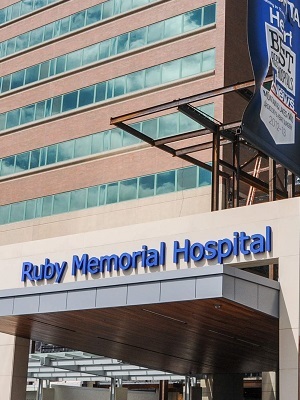 MORGANTOWN – A woman and her husband are suing West Virginia University Hospitals after they claim it is responsible for injuries she sustained while she was a patient at one of its hospitals.
Dr. Mohammed Ashraf and West Virginia University Board of Governors were also named as defendants in the suit.
On Oct. 30, 2013, Nina Swick was suffering from vaginal bleeding and presented to her primary care provider, who transported her by ambulance to Hampshire Memorial Hospital, according to a complaint filed in Monongalia Circuit Court.
At Hampshire, it was recommended that she be immediately transported to Ruby Memorial Hospital and she was admitted to Ruby under Ashraf's care.
Dr. Krystal Baker ordered an interventional radiology embolization in an effort to stop the vaginal bleeding and the embolization was performed by Dr. Brent Steadman, according to the suit. Following the procedure, the bleeding stopped and the procedure was deemed successful.
Swick claims the following day, she underwent a CT scan of her abdomen and pelvis and when she was being transferred from her bed to the CT table, her left buttock struck the edge of the table and she complained to a WVUH employee when she returned to her room that she was in pain.
Ashraf and Baker performed exploratory surgery on her later that day, debulking abdominal tumor, left ureterolysis, lysis of adhesions and enterolysis and intragenic/intentional cystotomy with repair, according to the suit.
Swick claims the next day, upon getting out of bed for the first time since her surgery, a nurse found a bruise on her left buttock and noted it in Swick's chart.
On multiple occasions between Nov. 1, 2013, and Nov. 5, 2013, Swick repeatedly complained of pain in her left buttock and she was discharged on Nov. 5, 2013.
Swick claims she was given a bag balm to apply to her left buttock twice a day and had an appointment scheduled for Nov. 15, 2013, with Ashraf for a post-operative follow-up for her abdominal tumor debulking procedure.
At the time of her follow-up appointment, Swick's wound on her left buttock had progressed to covering nearly the entirety of her left buttock and she presented the wound to Ashraf, to which he told her it was not something "within his area of expertise."
On Nov. 19, 2013, Swick presented to her PCP, who referred her to wound care treatment under the care of Dr. Jorge Posadas, and she began extensive wound care treatment with Posadas on Nov. 22, 2013, which the treatment continued until approximately July 2014.
Swick claims the defendants were negligent in caring for her.
Swick's husband, Dennis Swick, suffered a loss of consortium because of the injuries and damages his wife experienced, according to the suit.
The Swicks are seeking compensatory damages. They are being represented by Bruce A. Kirkwood of Kirkwood & Rogers PA.
Monongalia Circuit Court case number: 15-C-777