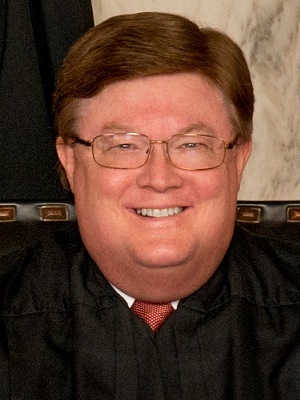 CHARLESTON – State Supreme Court Justice Brent Benjamin shouldn't have received public campaign finance money for his re-election campaign, a Kanawha County judge has ruled.
Kanawha Circuit Judge Tod Kaufman ruled March 4 that the State Election Commission was "clearly erroneous" in deciding Benjamin's campaign was eligible for public financing.
In a statement Friday, Benjamin said he still thinks the SEC was correct in issuing the funds to his campaign. And he hinted at an appeal to the state Supreme Court.
"I believe strongly that undue influence from the well-connected, special interests and out-of-state groups is wrong and that public financing should be encouraged in elections for West Virginia's Supreme Court of Appeals," he said. "I continue to believe that the State Elections Commission got it right.
"My campaign will take appropriate steps to have this decision reviewed."
Beth Walker, one of Benjamin's opponents, filed a lawsuit saying Benjamin didn't meet all of the requirements to receive the money. In a hearing Friday, Walker attorney Thomas Ryan said Benjamin's re-election campaign missed deadlines for filing the application for certification and a report of exploratory campaign contributions. Walker's campaign raised the same issues earlier this month during a State Election Commission hearing, but the panel ruled Benjamin met the qualifications for funding.
Walker appealed the ruling to Kanawha Circuit Court, claiming the SEC wrongly certified Benjamin for the financing. She also says Benjamin's campaign missed deadlines for filing the application for certification and a report of exploratory campaign contributions.
In hearings on the matter, the SEC said those were not valid technical issues to deny Benjamin the money under the Supreme Court Public Campaign Financing Act. Walker's petition also says the commission was wrong in deciding Benjamin's campaign had raised enough qualifying funds to receive the public financing.
In his March 4 order, Kaufman notes that of the 365 contributions Walker challenged, 192 of them were electronic and did not contain a handwritten signature, which is required by law. Kaufman also notes that Benjamin's campaign requested a hardship exemption because it was physically unable to submit the reports and receipts because the state Secretary of State's online campaign finance reporting system was not equipped to accept the exploratory period reports because he had initially registered as a "non-participating candidate."
"Justice Benjamin's failure to file the exploratory monthly reports was not attributable to an electronic 'glitch,' rather neglect to which the hardship exemption does not apply," Kaufman wrote.
Kaufman also placed blame on Secretary of State Natalie Tennant's office, which oversees elections.
On Feb. 3, Tennant "unilaterally decided that Walker was also required to provide 'evidence,' which was a copy of the actual receipt for each challenged contribution," Kaufman wrote. "Those same receipts, however, were in the custody, control and possession of the Secretary of State.
"Because Ms. Walker did not also provide the SEC a copy of each receipt that was challenged, the SEC refused to entertain the merits of any of the challenges she brought on February 2nd."
He said the Secretary of State has a statutory obligation under state law to review and verify that such qualifying contributions are legitimate and that they satisfy the statutory requirements.
"The Secretary of State's interpretation ... as a mandatory obligation for Ms. Walkerto not only file a written challenge, (which she did) but also to provide the SEC a copy of the underlying challenged receipt, a document that was in the SEC's custody, control and possession, was clearly erroneous as a matter of law," Kaufman wrote.
"The Secretary of State's attempt to shift the burden to Ms. Walker's campaign the night before the hearing was an unfair shifting or placing or responsibility. At the very least, the matter is not spoken to in any previous practice or the statute or rules in place for Finance Program challenges."
The law says a state Supreme Court candidate has to raise $35,000 in qualifying contributions from 500 contributors, and it says the maximum contribution can be no more than $100.
"The Walker campaign believes in the rule of law and that the law should be followed – especially by candidates seeking judicial office," Walker spokesman Joe Reidy said last week. "There are legitimate questions about qualification for $525,000 in public funds that the court needs to decide."
Reidy said the campaign hadn't seen the order as of Friday afternoon and had no further comment yet.
In her petition, Walker notes that Benjamin's campaign filed electronic qualifying reports with Secretary of State Natalie Tennant's office. The Oct. 1 report showed $0 in qualifying contributions. The Nov. 1 report showed $1,360 in qualifying contributions. The Dec. 1 report showed a total of $2,659 collected. The Jan. 1 report showed a total of $6,704 collected. A Jan. 31 amended report added $10 to the total, and the Feb. 1 report showed a total of $41,511 collected.
"Notably, Benjamin's February 1 report reflected a flood of monies and more than half of his qualifying contributions -- $10,466 on January 29 and $15,702 on January 30 respectively – that poured into the Supreme Court race at the eleventh hour at the end of the January 30 qualifying period," the petition states.
Walker seeks to have the court overturn the SEC decision making Benjamin eligible for public campaign financing and to order the Benjamin campaign to not spend the funds and to return it.
"Expenditure of those public monies, if not stayed pending the court's review of the SEC's decision, will irreparably harm Walker by affording Benjamin an improper advantage in the campaign for Supreme Court," the petition states, adding, "As a result, Walker's own ability to compete and campaign for the position will be improperly impaired."
After the SEC vote earlier this month, Benjamin campaign representative Anne Charnock read a statement from Benjamin at the hearing, stating, "In creating the Public Campaign Finance program, the Legislature recognized that increasing expensive judicial elections funded by high-dollar interests have created a concern among voters that such interests have too much influence in our judicial system."
"The Public Campaign Finance program not only enhances public confidence in the fairness and impartiality of our courts, it also ensures that the West Virginian who is able to give just a single dollar knows that his or her participation in the selection process is just as important as the $1,000 given by a politically connected insider, special interest or out-of-state group."
At the same meeting, the SEC also certified public campaign financing for Supreme Court justice candidate Bill Wooton. Walker claimed Wooton should be disqualified for allegedly filing his application for certification a day late.
Walker, Benjamin and Wooton are joined by former Justice and state Attorney General Darrell McGraw and Clay County attorney Wayne King as candidates for the state Supreme Court.
Starting this year, all judicial elections in West Virginia are non-partisan. That means the candidates aren't tied to political parties. It also means the May 10 primary is the only election for judicial seats.
In his statement Friday, Benjamin noted that it's just more than nine weeks until the election.
"In view of last week's independent statewide polling results released by Orion Strategies, this race comes down to two very different philosophies of judging – my 12-year record of conservative judging on the Supreme Court and Mr. McGraw's 12-year record of activist judging on the Supreme Court," Benjamin said. "The voters can judge our different records and judicial philosophies, and we can let the voters decide the future course they wish for their Supreme Court."