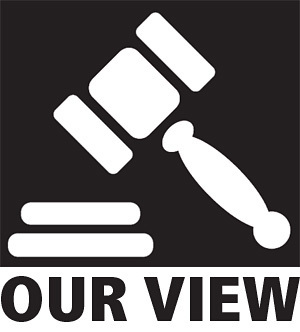 "I thought the rabbit droppings in your backyard were Cocoa Puffs and I experienced intestinal distress after eating them. Plus, I was humiliated when I posted a selfie on Facebook, Instagram, Twitter, etc., saying, 'I found Cocoa Puffs in my neighbor's backyard!'"
"I mistook the glue stick in your desk drawer for lip balm and now I'm speechless."
"I know now it was Bengay, but at the time I thought it was Preparation H."
Could anyone be that dumb?
Everybody makes mistakes once in awhile, and sometimes they're real whoppers, but do you really want to tell the whole world about it and make yourself look even sillier by trying to blame someone else?
Some people do.
Take Mary Fox, for instance. While she and her husband were at the West Virginia high school basketball tournament at the Charleston Civic Center about this time two years ago, Mary fell down some stairs and broke her wrist. Now the Foxes have filed suit in Kanawha Circuit Court against the City of Charleston, which they blame for her injury.
You see, Mary fell down the stairs that didn't have slip resistant materials or railing or readily visible cues of a change. To paraphrase the complaint, the stairs appeared to be a ramp.
Stairs and ramps serve basically the same purpose and tend to be found in similar locations, but stairs typically consist of steps and ramps usually slant continuously. Of course, stairs and ramps do sometimes alternate with one another, and maybe that could be confusing for some people. Still, it shouldn't be that difficult to distinguish between them. If it is, one needs to exercise added caution.
Fox says the stairs in question were "comprised of atypical short risers and deep steps, causing the stairs to appear as a ramp." Perhaps they looked like an escalator, too, except for being motionless.
In any case, Mary made a mistake and expects the City of Charleston to pay for it.