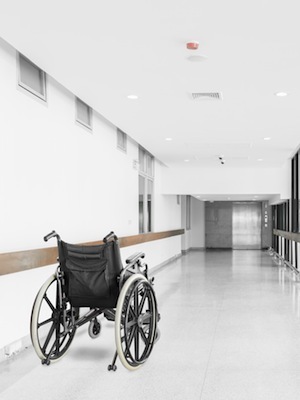 FAYETTEVILLE – A man is suing Genesis Healthcare after he claims it was responsible for his wife's death.
Genesis WV Holdings LLC; Genesis Health Ventures of West Virginia LP; Genesis Eldercare Network Services Inc.; Genesis Eldercare Rehabilitation Services Inc.; Genesis Healthcare Corporation; Saddle Shop Road Operations LLC; Dr. Scott Allen Keffer; Scott Keffer Inc.; and Tara Jackson were also named as defendants in the suit.
In December 2014, Judith Kay Sutyak suffered a cerebral artery aneurysm and brain surgery was performed at Cabell Huntington Hospital, according to a complaint filed originally filed in Kanawha Circuit Court and later transferred to Fayette Circuit Court.
Michael Sutyak claims on Dec. 30, 2014, she was discharged from Cabell to Hilltop Center for rehabilitation therapy and the defendants were notified of her susceptibility to hypermatremia and her Diabetes Mellitus.
The defendants were also notified that she suffered from three Stage II Decubitus ulcers and that she was entirely dependent for all aspects of her care, according to the suit.
Michael Sutyak claims the defendants were also on notice that Judith Sutyak was unable to communicate as a result of her brain aneurysm and was incontinent of bowel and bladder.
On Dec. 31, 2014, lab work showed that Judith Sutyak's Diabetes was uncontrolled and on Jan. 2, 2015, Keffer performed an admission history and physical on Sutyak, noting that she was not paralyzed when she was and that there were no pressure ulcers when there were, according to the suit.
Michael Sutyak claims despite her elevated blood glucose level on admission, Keffer did not adjust her insulin level on a sliding scale.
Between Dec. 31, 2014, and Jan. 20, 2015, Hilltop Center's nursing staff charted that all three of Sutyak's Decubitus ulcers remained at Stage II, that all wounds were decreasing in size, that the surrounding tissue and wound edges were healthy, that the wounds did not emit an odor and that she was not complaining of pain, according to the suit.
Michael Sutyak claims when her lab values were checked on Jan. 5, 2015, she was severely hyperglycemic, in the early stages of kidney failure and severely hypermatremic. She was treated by Jackson on Jan. 5, 2015, because her blood glucose level was in the 400s.
Jackson determined that Sutyak should continue her current medication regimen and follow-up lab work was performed on Jan. 6, 2015, that continued to suggest kidney failure and that her sodium level was critically high, evidencing hypermatremia and severe dehydration.
On Jan. 7, 2015, Keffer and Jackson were notified of her elevated sodium levels and Jackson ordered the Sutyak continue her current medication regimen, avoid excessive amounts of greasy or fatty food and to undergo a follow-up comprehensive metabolic panel the following day, according to the suit.
Michael Sutyak claims on Jan. 8, 2015, Judith Sutyak remained severely hypermatremic and hyperglycemic and Jackson ordered more follow-up labs for the next day.
The lab results from Jan. 9, 2015, revealed Judith Sutyak was severely hyperglycemic, hypermatremic, hyperchloremic, exhibiting signs of renal failure and severely dehydrated and on Jan. 10, 2015, she had a fever of 102.6 and a pulse of 104, which were signs of Systemic Inflammatory Response Syndrome, according to the suit.
Michael Sutyak claims Judith Sutyak was transferred from Hilltop to Plateau Medical Center by ambulance and was treated and discharged back to Hilltop. There were no new orders upon her readmission to Hilltop.
Over the course of the next 19 days, Judith Sutyak was "largely ignored and uncared for," according to the suit, and on Jan. 29, 2015, she was transferred via ambulance to Plateau, and then to Beckley Appalachian Regional Hospital, where her condition was determined to be critical and she was admitted to the Intensive Care Unit.
Michael Sutyak claims on Feb. 9, 2015, Judith Sutyak was discharged to Hilltop with explicit instructions to be turned every two hours and checked for incontinence to prevent infection of her unstageable Decubitus ulcer, however, the instructions were not followed and between Feb. 9, 2015, and Feb. 18, 2014, Judith Sutyak's condition continued to deteriorate.
On Feb. 20, 2015, at 5 a.m., Judith Sutyak was discovered not breathing and without a pulse. She was pronounced dead 53 minutes later at Plateau, according to the suit.
Michael Sutyak claims that the defendants were responsible for her death and they were negligent in their care of her.
Michael Sutyak is seeking compensatory and punitive damages with pre- and post-judgment interest. He is being represented by Kathy A. Brown of Kathy Brown Law and Timothy D. Houston of Houston Law.
Fayette Circuit Court case number: 16-C-52