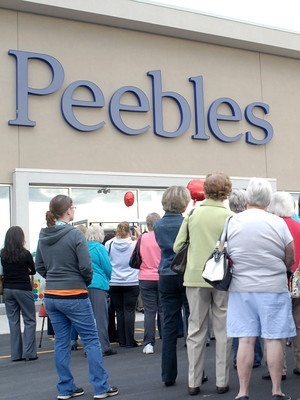 CHARLESTON – A former employee is suing Specialty Retailers Inc. after she claims a hostile work environment forced her to resign from her employment.
Specialty Retailers is doing business as Stage Stores, which operates in West Virginia as Peebles.
Trena Lewis was also named as a defendant in the suit.
On July 5, 2012, Janis Dodrill was diagnosed with moderately severe colitis in her colon and rectum, as well as duodenitis and gastritis, according to a complaint filed March 23 in Kanawha Circuit Court.
Dodrill claims she was hired by the defendant as a Clinique Counter Manager on June 7, 2014, and on June 8, 2015, she requested the reasonable accommodation of a set schedule for her disability and was instead scheduled to work more hours per week with an erratic schedule.
On June 18 or June 20, she provided the defendant with a doctor's excuse and again requested the reasonable accommodation of a set schedule and was told by Lewis that the company's schedule takes precedence over doctor's notes, according to the suit.
Dodrill claims during this period, she was also forced to work extra hours, despite the fact that extra hours were not mandatory.
On July 29, she had another conversation with Lewis about scheduling and her schedule switched erratically between day shift and night shift, directly conflicting with her doctor's orders, according to the suit. She claims the defendant again refused to accommodate her.
Dodrill claims on July 31, she was treated for ulcerative colitis, gastroesophageal reflux disease and lumbosacral strain at Summersville Regional Center and she was given a ride back to work, where she provided Lewis with her doctor's excuse and requested an intermittent FMLA form.
Lewis told Dodrill that no FMLA for reduced hours existed and on Aug. 11, Dodrill submitted FMLA paperwork that she and her healthcare provider completed. Lewis needed to complete the employer section of the paperwork, according to the suit.
Dodrill claims on Aug. 19, she picked up the FMLA paperwork and faxed it to Maribel Villarreal of the defendant's human resources department, and the next day, her FMLA began.
During the course of her FMLA, Lewis told Dodrill that HR had told her to take one hour off of each night shift and one hour off of each day shift, according to the suit. Because of this still inconsistent schedule, Dodrill returned to her doctor's office to correct the date on her FMLA paperwork and she and her doctor agree upon a workday from 11 a.m. to 6 p.m.
Dodrill claims she contacted Villarreal with the updated information and Villarreal had no recollection of telling Lewis to take an hour off of each shift.
On Nov. 2, Dodrill's FMLA endd and her inconsistent schedule resumed without the accommodations specified in her doctor's note, according to the suit. On Nov. 4, Dodrill sent Lewis a text, again requesting reasonable accommodations and still none were made.
Dodrill claims she was scheduled to work 52 to 56 hours the week of Dec. 20 to Dec. 26, and she brought up her inability to work those hours due to her medical condition and reminded Lewis of her doctor's note. Lewis stated that her manager wanted coverage for the holiday hours.
Dodrill attempted to comply, but began feeling unwell and asked to leave work after working nine hours of her shift and was told it was too busy and she could not leave, according to the suit.
Dodrill claims when she brought up her note, Lewis told her to "just go home" and on Dec. 26, Dodrill provided Lewis and Villarreal a letter of resignation stating her final day as Feb. 5, which allowed a window of time for her to train her replacement.
The plaintiff did not receive the 72 hours of vacation she had accumulated when she received her final paycheck on Feb. 19, according to the suit.
Dodrill claims the defendants discriminated against her because of her disability and failed to reasonably accommodate her based on her doctor's note.
Lewis also created a hostile work environment and her actions were designed to intentionally cause Dodrill emotional distress, according to the suit.
Dodrill is seeking compensatory and punitive damages. She is being represented by Matthew S. Criswell and Mark L. French of Criswell French PLLC.
The case is assigned to Circuit Judge Louis Bloom.
Kanawha Circuit Court case number: 16-C-419