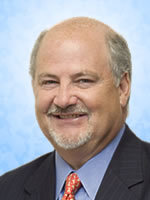 HUNTINGTON -- Huntington attorney Michael J. Farrell recently was inducted into the June Harless Center for Rural Educational Research and Development Hall of Fame.
The Harless center's mission is to provide leadership and education initiatives for rural West Virginia educators and students. Farrell was recognized for the exemplary leadership he has provided to ensure the success of the education of all students in West Virginia.
The induction ceremony took place May 15 at the Marshall University Foundation Hall.
Farrell said he has a longstanding commitment to education. He is currently serving as Commissioner on the West Virginia Higher Education Policy Commission.
He has also served on the Marshall University Board of Governors, the Marshall University Board of Advisors, the University System Board of Trustees, the Higher Education Interim Governing Board, the West Virginia University College of Law Visiting Committee, and he has served as the Interim President of Marshall University.
In addition to his many appointment and volunteer activities involving education, Farrell serves as an Adjunct Faculty member for the Marshall University School of Pharmacy and as a Clinical Associate Professor for the Marshall University Joan C. Edwards School of Medicine Departments of Surgery and Family & Community Health.
Farrell said he was honored to be recognized for his impact on education and will continue to strive for greatness in Education for West Virginians.