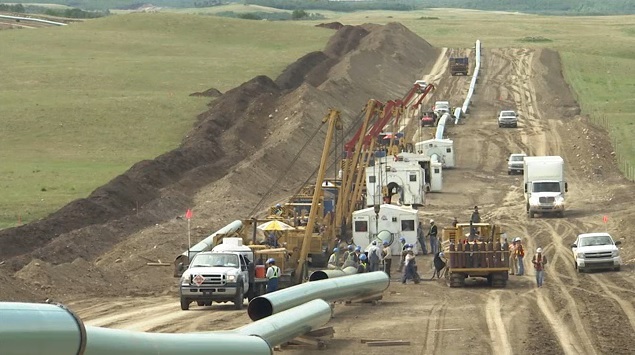 BECKLEY – Mountain Valley Pipeline is suing 100 property owners for refusing property access to survey land for a proposed natural gas pipeline.
MVP is in the process of surveying properties as part of a project to construct a 300-mile, 42-inch natural gas pipeline through West Virginia, according to a complaint filed March 27 in the U.S. District Court for the Southern District of West Virginia.
MVP has contacted each of the defendants, requesting their consent to survey their property and each of either failed or refused to permit the company access to survey the properties and/or have prevented MVP from completing the necessary survey.
The defendants include individuals and three companies.
MVP claims West Virginia code vests the power of eminent domain in companies such as it seeking to construct pipelines for a public use and, as part of its rights, MVP's right of access to survey is clear under West Virginia code.
It is necessary to enter the defendants' properties to survey the appropriate, necessary rights-of-way, obtain a FERC certificate and construct the pipeline, according to the suit.
MVP claims to deny this access violates its eminent domain rights.
MVP is entitled to a permanent injunction enjoining the defendants from prohibiting it from accessing their properties to survey for the pipeline, according to the suit.
MVP is seeking for the court to grant its complaint and petition for declaratory judgment, preliminary and permanent injunctive relief and immediate right of entry pursuant to West Virginia code; an order declaring that MVP's employees, agents and representatives may enter on the properties to survey; and an order enjoining the defendants from prohibiting MVP access for survey purposes.
They are being represented by Charles S. Piccirillo and Kenneth B. Adkins of Shaffer & Shaffer; and Stephen F. Gandee and E. Ryan Kennedy of Robinson & McElwee PLLC.
Earlier this month, families in Summers and Monroe counties filed a lawsuit against the company seeking to prevent its agents from entering their properties. Both lawsuits were removed to federal court in Beckley and Bluefield.
The case is assigned to District Judge Irene C. Berger.
U.S. District Court for the Southern District of West Virginia case number: 5:15-cv-03858