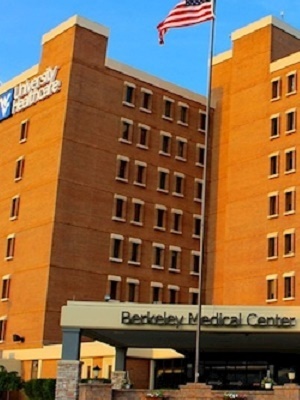 MARTINSBURG – A mother and child are suing Berkeley Medical Center after they claim it was negligent in failing to hospitalize them.
City Hospital Inc. is doing business as Berkeley Medical Center.
University Health Care; University Medical Center; Shenandoah Medical Center; Shenandoah Women's Health; Shenandoah Community Health Center; Shenandoah Midwife Inc.; Shenandoah Valley Medical System Inc.; Dr. Consuela Cruden-Parham; Lisa Wyatt; West Virginia University Hospitals Inc.; and Rebecca Pfender were also named as defendants in the suit.
Tina Gregory, as mother and next of kin of B.A.M., and B.A.M., individually
On May 26, 2013, Tina Gregory went to the Emergency Department of University Healthcare-City Hospital in Martinsburg with vaginal bleeding and her unborn child's fetal heart rate at the time was 135, according to a complaint filed July 30 in Berkeley Circuit Court and removed to federal court on Nov. 23.
Gregory claims she was seen by a registered nurse and a certified nurse midwife of Shenandoah Women's Health Shenandoah Midwives and briefly admitted, where she was given Terbutaline before being discharged.
On May 29, 2013, she returned, where it was noted that she was 24 weeks and 5 days in her pregnancy and that she had had continued bleeding with a large clot and the cause of the vaginal bleeding was unknown, according to the suit.
Gregory claims radiology films showed a breech presentation and amniotic fluid index of 14.1cm and that the placenta was low lying. She also reported pain of five on a scale of one to ten and indicated that it felt like pressure. She was then discharged.
On May 31, 2013, Gregory returned to the hospital again with vaginal bleeding and abdominal cramping and it was noted that her heart rate was 100 to 110 and the fetal heart rate was 130 to 140, with a regular contraction pattern, according to the suit.
Gregory claims she was administered Terbutaline with a reduction in contractions and it was decided that her case would be reviewed at the high-risk meeting the next week and she was discharged that same day.
On June 3, 2013, Gregory went to Winchester Medical Center and while there, it was decided that, at 25 weeks and 3 days, she would have a c-section, according to the suit.
Gregory claims B.A.M. was born with serious cerebral palsy and other injuries.
The defendants failed to hospitalize Gregory on May 29, 2013, and May 31, 2013, and failed to ensure that she would be seen by a physician considering she was in a high-risk situation, according to the suit.
The nurses and midwives failed to properly advocate for her staying in the hospital and failed to provide the kind of healthcare needed by the plaintiffs at all times, according to the suit.
Gregory and B.A.M. are seeking compensatory damages. They are being represented by Barry J. Nace and Christopher T. Nace of Paulson & Nace PLLC; and D. Michael Burke of Burke, Schultz, Harman & Jenkinson.
The defendants are represented by Assistant U.S. Attorney Erin K. Reisenweber.
The case is assigned to District Judge Gina M. Groh.
U.S. District Court for the Northern District of West Virginia case number: 3:15-cv-00129