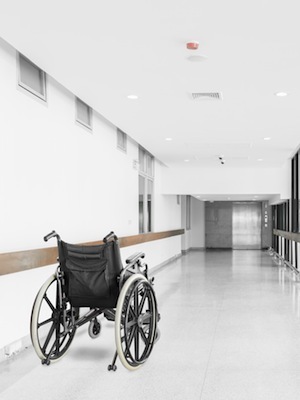 FAYETTEVILLE – A woman is suing Ansted Center after she claims it was negligent and committed medical malpractice.
106 Tyree Street Operations LLC is doing business as Ansted Center. Scott Keffer Inc., which is doing business as Mountain Medical Associates; and Dr. Scott Allen Keffer were also named as defendants in the suit.
Mescal Fern Osborne was under the defendants' care from Dec. 20, 2012, through Dec. 28, 2012, and from Jan. 2, 2013, through Jan. 8, 2013, according to a complaint filed in Fayette Circuit Court.
Judy Eggleston claims Osborne underwent a total hip replacement on Nov. 12, 2012, and was discharged on Nov 16, 2012. On Dec. 14, 2012, she was readmitted to Ruby Memorial Hospital for a suspected infection of the right prosthetic hip, where she underwent an incision and drainage of the wound site and exchange of the polyethylene liner and the Infectious Disease Department at Ruby was consulted, which recommended a six-week course of intravenous Vancomycin and Ceftaz.
On Dec. 15, 2012, Osborne started the antibiotics and on Dec. 20, 2012, she was discharged into the care of Ansted Center, according to the suit.
Eggleston claims while at Ansted Center, Osborne did not receive Ceftazidime and on Dec. 28, 2012, she was readmitted to Ruby due to a right hip deep infection and wound dehiscence and underwent a right hip irrigation and debridgement.
On Jan. 2, 2013, Osborne was discharged back into Ansted's care and, again, did not receive the Ceftazidime and she was readmitted to Ruby on Jan. 8, 2013, according to the suit.
Eggleston claims it was determined that the infection of Osborne's right him could not be eradicated without explanting the artificial him and, on Jan. 16, 2013, an explants/hardware removal was performed and an antibiotic hip spacer was put into place, but Osborne never recovered physically or mentally and she was discharged to hospice on Jan. 31, 2013, and died on Feb. 7, 2013.
The defendants violated the MPLA and were negligent in their actions, according to the suit.
Eggleston is seeking compensatory and punitive damages. She is being represented by Kathy A. Brown of Kathy Brown Law PLLC; and Timothy D. Houston of Houston Law PLLC.
Fayette Circuit Court case number: 15-C-298