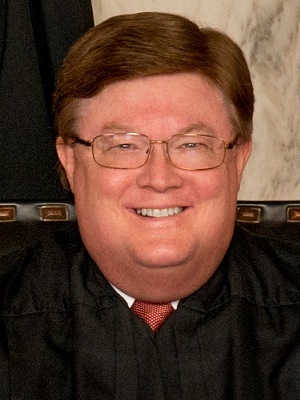 CHARLESTON – With the upcoming election in May, Supreme Court Justice Brent Benjamin has released TV advertisements with testimonials about his work developing and expanding the state's Drug Court program.
In one of the ads, 'Robert,' a man in his 20s, tells the camera that Benjamin changed his life and he explains how he faced serious jail time until agreeing to fulfill the requirements of the drug court program: submit to and pass random screenings, meet regularly with their probation officer, and keep a job and/or maintain good school grades.
Robert has now been clean for several years, has "a really good job" and a great family.
West Virginia's Drug Courts help participants overcome addictions that may have led them to commit crimes, thus saving lives, restoring families and making our neighborhoods safer, according to a press release by the Committee to Re-elect Justice Brent Benjamin.
Helping offenders become sober, productive citizens breaks the cycle of repeat offenses and re-victimization of families and our communities.
Drug Courts can be a productive, cost-effective, and humane alternative to incarceration for those who have committed non-violent crimes and are selected for participation by both the prosecutor and the judge, the press release states.
In addition to saving West Virginia taxpayers over $20 million per year in saved incarceration and prosecution costs, West Virginia's Drug Courts have been very successful at achieving a significant reduction in recidivism and substance abuse among offenders by rehabilitating offenders through early, continuous, and intense treatment; mandatory periodic drug testing; community supervision; appropriate sanctions and incentives; and other rehabilitation services, all of which is supervised by a judicial officer.
The recidivism rate for adult graduates of the program is less than ten percent, compared to 80 percent for simple incarceration, according to statistics compiled by the West Virginia judiciary.
Benjamin said the real benefit is that communities are safer, lives are saved, families are restored and desperately needed tax dollars can be used for other programs.
Another spot Benjamin is airing features a Vietnam veteran, 'James,' who tells viewers that Benjamin has given "hope to the hopeless" through his work to help veterans like him who have had to overcome addiction and a criminal record to now lead productive, meaningful lives.
Benjamin was elected to the Supreme Court in 2004 and has been recognized by the West Virginia Legislature for his leadership in addressing West Virginia's drug epidemic.
Since his election, nearly 1,400 participants have graduated from West Virginia's Drug Courts.
Under a new state law, candidates for the Supreme Court will appear on the ballot this year with no party affiliation.
Benjamin is also participating in West Virginia's independent financing program to help eliminate the potential for undue influence of the court from special interests and out-of-state groups, as well as political factions.
The spots were shot by Pikewood Creative, a West Virginia media production firm based in Morgantown which has won national acclaim for their work.
The ads are accessible on Benjamin's campaign website, www.justicebenjamin.com.
The election is May 10.