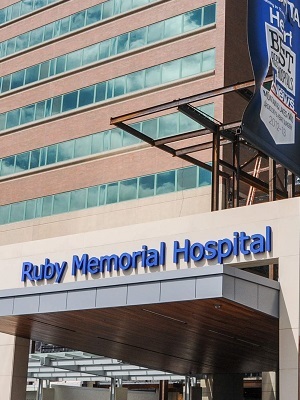 MORGANTOWN – A couple is suing West Virginia University Hospital after they claim a pressure ulcer formed while being treated at the hospital.
On Jan. 10, 2015, Frank R. Martino was admitted to Ruby Memorial Hospital for repair of an incarcerated incisional abdominal hernia, according to a complaint filed in Monongalia Circuit Court.
Martino claims on Jan. 13, 2015, he was first noted to have a type of skin breakdown, which is frequently associated with pressure ulcers and a nurse charged that a "skin tear" was identified.
Within two weeks, the "skin tear" evolved into a severe, debilitating pressure ulcer wound that required several months of treatment, according to the suit.
Martino claims after being discharged from the hospital on Jan. 19, 2015, he returned the following day and was readmitted on Jan. 24, 2015, due to "infection and inflammatory reaction due to indwelling urinary catheter" and he received extensive treatment for this pressure ulcer.
The standard of care is that no pressure ulcer will develop in hospitalized patients, as proper nutrition, hygiene, supervision, turning and repositioning and frequent skin assessments will prevent pressure ulcer formation, according to the suit.
Martino claims the defendants are liable for all the wrongdoing of its agents, servants and employees and are responsible for his pain and suffering; mental anguish; embarrassment; and loss of ability to enjoy life.
Rina Martino suffered a loss of consortium as a result of the pressure ulcer, according to the suit.
The Martinos are seeking compensatory and punitive damages with pre- and post-judgment interest. They are being represented by Jacques R. Williams and Brianna W. McCardle of Hamstead, Williams & Shook PLLC.
Monongalia Circuit Court case number: 16-C-192