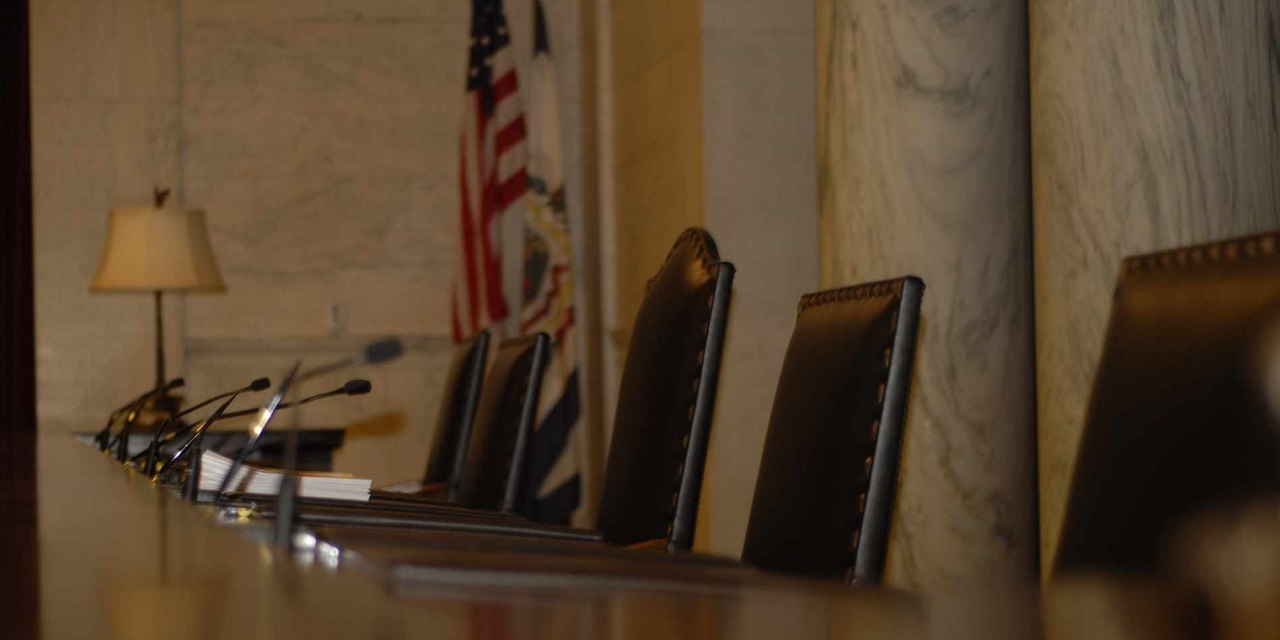 CHARLESTON – New Nicholas Circuit Judge Stephen Callaghan wanted the job so badly, "he was willing to lie to get it," according to an attorney who argued the case before the state Supreme Court.
Teresa Tarr opened her arguments with that statement Jan. 24 on behalf of the state Judicial Disciplinary Counsel before five sitting justices who had been appointed to hear the case regarding sanctions against Callaghan for a flier his campaign sent out days before the May 10 election. Callaghan defeated longtime Judge Gary Johnson and took office this month.
In November, the state Judicial Hearing Board recommended that Callaghan be censured, reprimanded and suspended as a judge for a year for violations of judicial ethics related to his May victory over Johnson. It also recommended that Callaghan be suspended from practicing law for a year. The Judicial Disciplinary Counsel is asking for Callaghan to be suspended for two years.
Lonnie Simmons, Callaghan's attorney, said the flier was meant as parody, making it protected political speech.
"If it's negligently false, it's protected by the First Amendment," Simmons told the Justices. "You can't sanction a judicial candidate for something that occurred as a result of negligence."
The front of the flier shows Johnson and Obama, making it appear Obama is holding a beer. It also features confetti and says "Barack Obama and Gary Johnson Party at the White House." It also claims Johnson was partying with Obama in Washington while Nicholas County was losing jobs.
"When you are looking at something, part of the analysis is, 'What would a reasonable person think looking at that?'" Simmons said in his Jan. 24 arguments. "I would argue that a reasonable person seeing the Photoshopped Obama, the faked beer, Judge Gary Johnson and these fake streamers and he's partying with Obama. 'Well that's just a goof.'"
Tarr disagreed, saying the flier was nothing more than falsehoods.
"There is this very clear implication in the whole thing that somehow Judge Johnson was in alignment with President Obama's policies as it relates to coal," she argued. "And that is further from the truth."
Simmons said the absurdity of the flier proves it was a parody.
"If the Court made a ruling that you could never ever Photoshop anything because Photoshopping is in fact, false," he said. "It's false."
One of the sitting Justices chimed in during that portion.
"It's false. There is no way you can say it's true."
Callaghan's challenge to the hearing board ruling had been scheduled for Jan. 10 before the state Supreme Court. But it was been pushed back to Jan. 24, and all five elected Justices had voluntarily recused themselves from hearing it because Johnson was named interim Court Administrator after the Justices voted to terminate Steve Canterbury from the job on Jan. 4.
Justice Robin Jean Davis recused herself on Jan. 5, and the other Justices did so on Jan. 9 after Simmons presented a motion to disqualify them.
Senior Status Justice Thomas McHugh is serving as Acting Chief Justice on the case. He appointed Circuit Judges Robert Waters, James Matish, H. Charles Carl III and Joanna Tabit to hear the matter with him.
In November, Circuit Judge Lawrance Miller Jr. wrote that the Judicial Hearing Board recommended that Callaghan be censured as a judicial candidate and reprimanded as a lawyer.
Ethics charges were brought against Callaghan after his alleged smear campaign against Johnson, who had presided as circuit judge in Nicholas County for 23 years. Callaghan defeated Johnson by 220 votes.
The West Virginia Judicial Investigation Commission charged Callaghan with violating the rules judges and judicial candidates are required to abide by in August. Callaghan filed a lawsuit in October asking a federal court judge to dismiss the disciplinary case against him.
In May, about one week before the primary election, Callaghan had a Obama flier sent out.
The ethics charges brought against Callaghan claimed that the fliers were meant to deceive voters into believing that Johnson and Obama were drinking beer and partying at the White House while "conniving with one another to kill coal mining jobs in Nicholas County."
In a federal lawsuit he filed in October, Callaghan denies that the flier was created to mislead the public or imply that Johnson was personally responsible for the loss of Nicholas County jobs and that the public had the right to question Johnson's judgment in attending the event.
Callaghan claimed that within hours of the flier being mailed out, Tarr called him and had concluded that the flier, rather than being a statement of opinion, was a statement of literal facts and outlined the steps Callaghan needed to take to avoid controversy over the advertising and to mitigate any perceived harm.
Johnson's son filed a formal complaint with the West Virginia Lawyer Disciplinary Board and the West Virginia Judicial Commission on May 16, six days after the election.
According to the board's recommendations, Callaghan should also pay $15,000 and pay for the cost of the proceedings against him.
State Supreme Court case number 16-0670