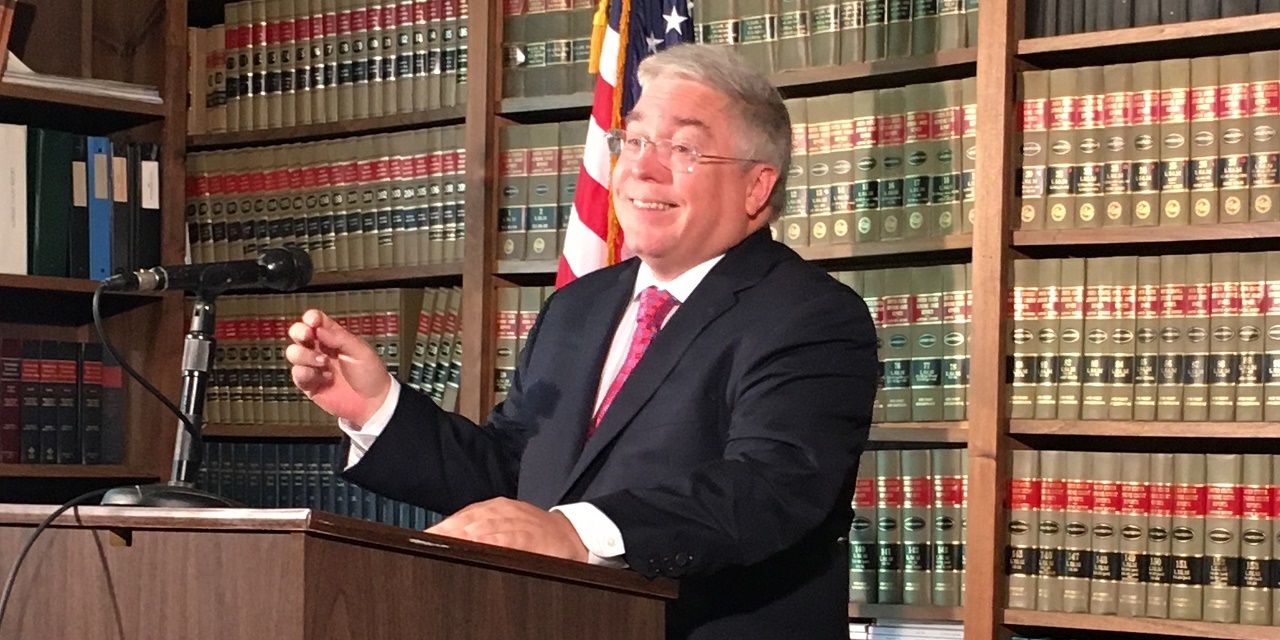 CHARLESTON – A Rosemont Elementary School third-grader's poignant story that revealed her feelings about losing her father to a drug overdose appeared in advertisements across West Virginia in January as part of Attorney General Patrick Morrisey's quest to raise awareness on the tragic consequences of painkiller abuse.
Last fall, Jacey Rose Chalmers of Martinsburg was announced as the winner of the Kids Kick Opioids contest, which was conducted by the attorney general's office.
Chalmers' winning entry included a photograph of the young girl and her father one week before he died, as well as a personal note that reads "I miss my daddy. I want to hug and kiss him every day. It is very sad when kids don't have their daddy to play with. I still cry when I think about my daddy. Xo"
"We hope (the ad) raises awareness of the impact, not only on those struggling with addiction, but also children and others who are affected through no choice of their own," Morrisey told The West Virginia Record.
Morrisey said the contest was very successful. Specifically, the attorney general's office collected 1,921 entries from 2,212 students from 71 middle schools and elementary schools across the state. The entries included a mix of drawings, poems and other designs with a theme of promoting awareness of the impact of drug abuse on West Virginia residents and families.
Morrisey said the feedback on the contest and the ads has been "very positive."
"People know this is a serious issue," he said. "They have been supportive of our holistic approach of tackling this problem."
The attorney general said he hopes to reach as many West Virginians as possible, with the help of Chalmers' message and other efforts.
"This epidemic that has taken far too many lives," Morrisey said. "The more people come together and form a united front, the better our chances are at beating this."
Morrisey said the contest represents one initiative he has launched to attack the opioid epidemic.
In addition to the contest, the attorney general said his office has secured criminal convictions, increased funding, focused on education initiatives, engaged in civil litigation and multi-state initiatives, collaborated with the faith-based community and presented a best practices toolkit endorsed by more than 25 national and state stakeholders.
Morrisey said his office also recently obtained the largest pharmaceutical settlement in state history and held entities responsible for their actions.
According to a release from the attorney general's office, West Virginia led the nation in 2015 with the highest rate of drug overdose deaths at 41.5 fatalities per 100,000 residents. Those figures marked a 16.9 percent increase over those recorded in 2014, according to the Centers for Disease Control and Prevention.
The office said Chalmers' design and those submitted by the statewide runners-up can be viewed at www.wvago.gov, along with a full list of regional winners.
In addition to Chalmers, the contest's judges recognized brothers David Urso and Gabe Urso, fifth-grade students at St. Mary's Grade School in Clarksburg, as well as Gianna Muto, a seventh-grade student at Hurricane Middle School in Hurricane, as statewide runners-up.