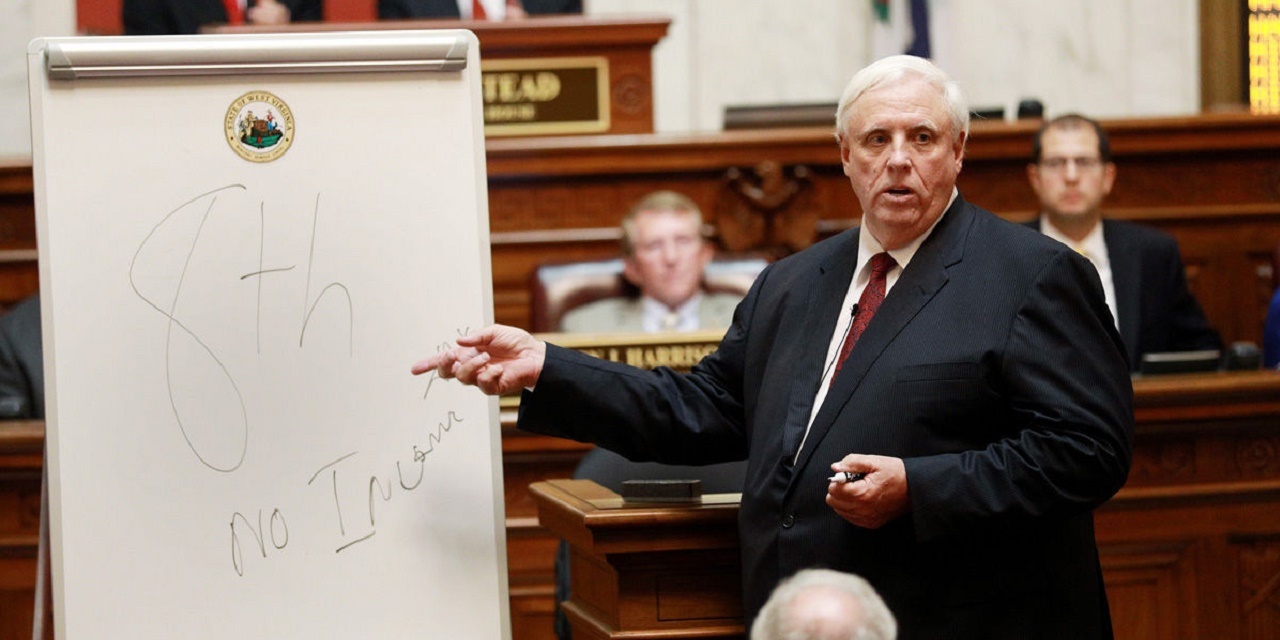 CHARLESTON – Gov. Jim Justice says the Democratic Party left him, not the other way around.
During an Aug. 3 rally in Huntington for President Donald Trump, Justice announced he was planning to switch back to the Republican Party a little over six months after he took office.
"He showed that our country rises above party," Trump said at the rally. "Having Big Jim as a Republican is such an honor. Fantastic man, fantastic guy."
Justice said he had been contemplating the switch for about a month.
"With lots of prayers and lots of thoughts, today I tell you as West Virginians I can't help you any more being a Democratic governor," Justice told the Huntington crowd. "So tomorrow, I will be changing my registration to Republican."
On MetroNews' "Talkline" radio program, Justice further explained his decision to host Hoppy Kercheval. He said Democrats in the state Legislature were the biggest reason for his switch.
"We had it worked out to where we were going to help our teachers, miners, so many other groups," Justice said, explaining the lawmakers walked away from those plans. "I begged them, I told them that you are going to walk away from your constituents. There's going to be real carnage.
"At the end of the day, the Democrats left me. I have been a shining knight trying to carry the flag. But, I've got to make this change. Our people need good stuff to happen to them. I haven't changed who Jim Justice is."
Justice told Kercheval he's excited to work with Republicans.
"I've had a lot of interaction with them," he said of state GOP lawmakers. "I hope to goodness things can work more smoothly."
Justice said he has no beef with state GOP leaders. He spoke of working with them during the legislative session.
"Along the way, (Senate President) Mitch Carmichael and I worked terrifically together," Justice told Kercheval. "The Senate was right with me. (House Speaker) Tim Armstead was really trying and working hard.
"At the end of the day, what happened … is that the Democrats, because of the personal income tax reduction of 5 percent, go into the ditch. They don't like it because it was a Republican idea."
Justice also said he's "terrifically excited" about working with Trump on the national scene.
"I think he'll really help us," he told Kercheval. "Trump is our president, and I think he's a really great man. He can help our state in any and every way. We have to have that bridge (to the White House). At the end of the day, that's all I want to do … help West Virginia. That's it."
Justice said he has met with Trump and other White House officials in recent weeks about an idea to help boost West Virginia's coal market as well as other about other state industries.
"My idea is a Homeland Security incentive to protect the eastern power grid," Justice told Kercheval. "If we lose all of our eastern coal fields, you may lose the entire eastern power grid. Then, you're all on gas and western coal.
"Now, what if there is a bomb? You could very well lose the entire eastern power grid. I'm proposing a Homeland Security incentive for the federal government to pay our power plants for every ton to ensure our eastern coal fields stay alive. It's a subsidy for eastern coal to protect our eastern power grid."
Justice reiterated that he only has the state's best interests at heart.
"I've said it a thousand times. I don't care if you're a Democrat or a Republican, I'm trying to do one thing," he told Kercheval. "And that's to make West Virginia better. West Virginians have proven over and over again how to be dead last.
"I'm tired of it. I am trying to get things done in a progressive and positive way. I'm not going to sit and bad mouth any Democrat or Republican. I am wanting us to all come together as West Virginians to get something done."
He said he has discussed the switch with Nick Casey, his chief of staff and former chairman of the state Democratic Party. Before running for governor, Justice switched from Republican to Democrat in 2015.
"Nick and I have had many, many, many discussions," he said. "I told him this a month ago. We've talked about it daily for a month. I just felt it was in the best interest of everybody."
State GOP leaders said today is a new day.
Party Chairman Conrad Lucas said Republican criticism of Justice is a thing of the past.
"Jim Justice's past differences with our party and our party's platform came while he was a Democrat. We look forward to a new beginning as the governor now embraces the Republican Party," Lucas said in a statement.
Lucas explained it further to Kercheval.
"He wants to continue supporting the coal industry, and he's looking for innovative ways to do that," Lucas said. "He also said he wants to reduce or eliminate the income tax, and those are core Republican values. If he thinks switching to our party will help make those things happen, then that's exactly what he should have done. We've done a lot of criticizing of the governor over the past few years, but today is a new day.
"He wants to enact conservative principles and follow the conservative platform. We don't want government in our lives. We don't want high taxes. We want West Virginia to prosper."
Lucas said the party acknowledges what it's said about Justice in the past, such as criticisms of his businesses not paying taxes and bills.
"We hold members of our own party to a higher standard," he told Kercheval. "But, obviously, we won't be sending anymore of those out because today is a new day."
Armstead said he hopes Justice does share Republican values.
"Certainly we would welcome him to the party, but we certainly hope he would embrace the principles of our party — and if he does we look forward to working with him," Armstead said. "I would hope we will have a better working relationship. I hope we are able to work together. As I said, Republican principles are smaller government, more efficient government, lower taxes. I hope if he becomes a member of our party he will embrace those principles."
U.S. Sen. Shelley Moore Capito, a Republican, said she welcomes Justice back to the party.
"He really wants to do the right thing for the state," she said. "I think he believes in lower taxes and growth. He also believes in the principle of taking care of the people you represent."
The state Democratic Party says Justice has lied to the people of West Virginia.
"Jim Justice said he became a Democrat because Democrats care about people," party chairwoman Belinda Biafore said in a statement. "I think we can all guess just who he cares about by his decision today and it's not the people of West Virginia.
"During his campaign for governor, Jim Justice said he would never lie to the public; he said he would never be a politician and he would definitely be a full-time governor. None of those promises were kept."
Biafore said she was "duped" by Justice.
"Here's the one thing I hate," she said. "Don't ever lie to the voters. Here's a guy who promised he'd never lie. He said he'd never be a politician, and he said he'd be a full-time governor. All of those are not true.
"He said he switched parties because Democrats care about people. Am I supposed to assume now that he doesn't care about people? He took advantage of Democrats to get our votes. He took advantage of Democrats with our money. He sold us a bad bill of goods.
"I will tell you this. When I looked at his agenda, I thought he was the right man for the job. For somebody who doesn't want to be political, this is the biggest political move anybody can make."
U.S. Sen. Joe Manchin, a Democrat, said he is disappointed by Justice's decision.
"I have been and always will be a proud West Virginia Democrat," he said in a statement. "I am disappointed by Governor Justice's decision to switch parties."
Two Republicans gunning for Manchin's Senate seat said they welcome Justice back to the party.
Congressman Evan Jenkins himself switched to the GOP when he decided to run for Congress.
"I would welcome him to the Republican Party," Jenkins said. "I served as a Democrat in the West Virginia Legislature. The direction of the Democratic Party both nationally and in the state were simply wrong for West Virginia, wrong for my values and what I think many West Virginians' values are. If Jim Justice is the next one to do that, I welcome him to the Republican Party."
State Attorney General Patrick Morrisey agreed.
"I welcome Jim Justice to the Republican Party," he said. "I look forward to working with him to advance economic opportunity and conservative values."