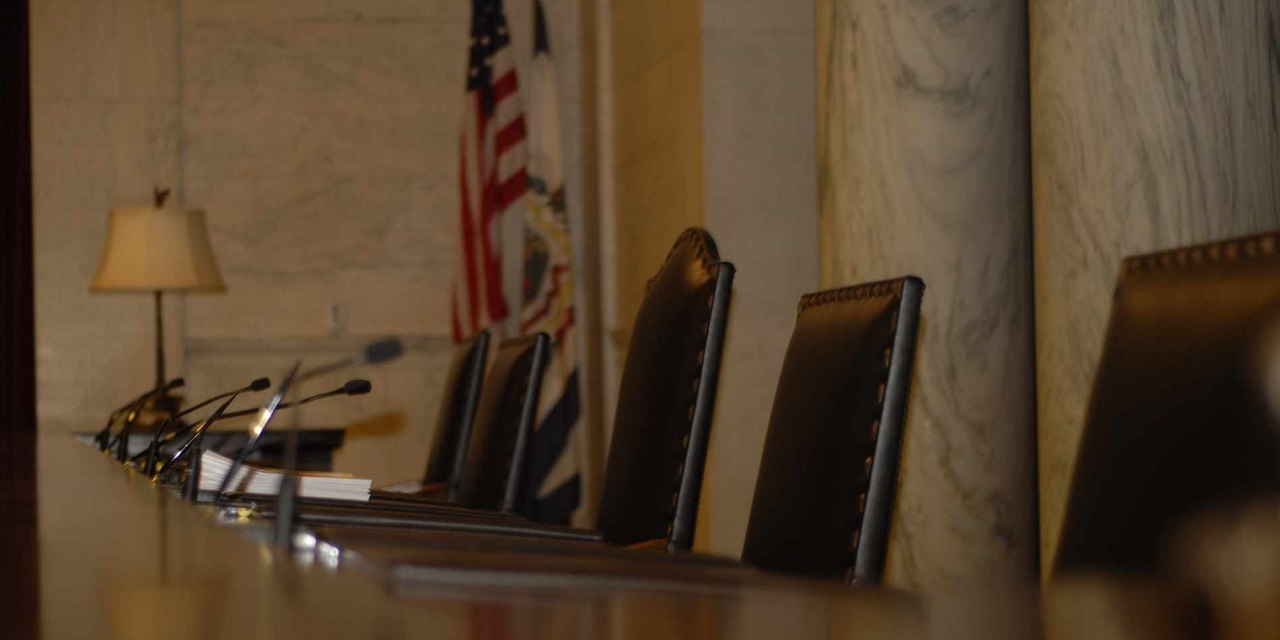 CHARLESTON – The state Supreme Court has dissolved a preliminary injunction that favored labor unions regarding West Virginia's right to work legislation, clearing the way for it to become law.
Justice Menis Ketchum authored the majority opinion, which was issued Sept. 15. It reversed Kanawha Circuit Court Judge Jennifer Bailey's Feb. 24 order, dissolved the injunction and remanded the case back to Kanawha County.
"The unions failed to establish a likelihood of success on the merits of their three constitutional claims," Ketchum wrote. "The circuit court therefore abused its discretion in granting a preliminary injunction.
"The circuit court's February 24, 2017, order is therefore reversed, the preliminary injunction dissolved, and the case remanded for the circuit court to conduct a final hearing on the merits of the parties' various contentions."
Ketchum also said the circuit court had "abused its discretion when it granted the unions' request for a preliminary injunction."
Ketchum said the Supreme Court found that the unions failed to show a likelihood of success in their legal challenge to the law's constitutionality.
"Twenty-eight states, including West Virginia, have a right to work law, yet the unions have not directed us to any federal or state appellate court that, in over seven decades, has struck down such a law," Ketchum wrote. "Therefore, the circuit court erred in granting the preliminary injunction."
Chief Justice Allen Loughry filed a concurring opinion, while Justice Robin Davis dissented. Justice Margaret Workman concurred in part and dissented in part.
In his concurring opinion, Loughry wrote that the circuit court's issuance of an injunction in the matter was not merely imprudent, but profoundly legally incorrect.
"Not only did the circuit court utilize an overruled legal standard for the issuance of an injunction, but blithely stated that the respondents' constitutional challenge to West Virginia's 'right-to-work' law was 'likely' to succeed, entitling them to an injunction," he wrote. "In fact, precisely the opposite was, and is, true: in absence of any legal authority supporting its constitutional challenge and in the face of United States Supreme Court holdings undermining their position, the respondents' action fails on all fronts."
Loughry said he wrote separately to demonstrate how fatally unsupported and lacking in merit the respondents' constitutional challenge is, thereby making the circuit court's issuance of an injunction all the more inexplicable
"In short, twenty-eight states have a right-to-work law," Loughry said. "None has been struck down, much less on the grounds advanced by the respondents. United States Supreme Court precedent has effectively rebuffed all of the challenges and subsidiary positions advanced by the respondents."
The respondents have demonstrated no likelihood of success and their failure was abetted by the circuit court's use of an overruled, effectively meaningless standard for issuance of a preliminary injunction.
"This monumental failure of legal reasoning was compounded by extraordinary and baseless delay occasioned by the circuit court," Loughry said. "Accordingly, I respectfully concur in the majority's reversal of the preliminary injunction and remand for further proceedings. I further encourage the circuit court to assiduously avoid further delay and grant this matter its foremost attention."
West Virginia Attorney General Patrick Morrisey's office had sought to vacate a preliminary injunction, claiming a union's right to associate cannot compel a non-member to support the union's activities.
Earlier this month, the justices heard arguments related to West Virginia's right to work law, also known as The West Virginia Workplace Freedom Act. Last year, the state Legislature became one of 28 states to enact a right to work law.
Morrisey's office filed a legal challenge to a February injunction issued by Kanawha Circuit Judge Jennifer Bailey. That followed a challenge of the law by state labor unions.
The unions argued union dues are necessary to allow unions to enter into collective bargaining for both member and nonmember employees.
The legislature passed the bill in February 2016 and then voted to override a veto by then-Gov. Earl Ray Tomblin.
During the Sept. 5 arguments, Justice Margaret Workman wondered why Attorney General Patrick Morrisey's office was arguing the case before the Supreme Court.
"I just think you all are taking a shortcut coming up here wanting all of the answers without the lower court having made any substantive ruling on a lot of issues," Workman said to Deputy Solicitor General Tom Johnson during his presentation. "This is the appeal of the granting of the temporary injunction, nothing more.
"There ought to be a decision on these substantive issues by the circuit court."
The unions say the law would harm them by allowing non-members to benefit from collective bargaining while not having to pay union dues.
"It would invite freeloaders," attorney Bob Battress said during arguments. "Workers could ask, 'Why should I pay for services that I could get for free?'"
After the arguments, Morrisey said he felt good about his team's chances.
"Today my office vigorously defended the Workplace Freedom Act," he said. "We believe this is plainly constitutional legislation. Courts have repeatedly upheld similar laws, and we remain hopeful the court will agree with our arguments."
West Virginia AFL-CIO President Josh Sword disagreed.
"It is our hope that the Supreme Court justices will allow the temporary injunction to remain in place so that Judge Bailey can take the time she needs to make a determination," he said in a statement. "Our contention remains as strong as it was the day we filed this lawsuit in 2016 that this law is an unconstitutional taking of property rights from local unions and their members."
Sword also noted that the Supreme Court ruling pertains solely to Bailey's preliminary injunction that postponed enactment of the Right to Work law while she considers her final ruling.
"As stated previously, we maintain that this law violates provisions of the West Virginia Constitution that prohibit the taking of property from unions and their members without just compensation or due process," he said. "When a majority of employees in a workplace, through a democratic process, vote to unionize, federal law requires unions to provide services to all employees, whether or not they choose to participate in that union.
"All parties in this case expect to be back before the state Supreme Court after Judge Bailey's final order on our lawsuit is issued. We look forward to continuing the debate on the merits of our arguments before the justices at that time.
"This is nothing more than an attempt from out-of-state billionaires to destroy labor organizations in West Virginia. And quite frankly, I'm tired of these out-of-staters telling us what we can and can't do."
Republican legislative leaders also hailed the Supreme Court ruling.
"We sincerely appreciate the West Virginia Supreme Court of Appeals for its decision today to eliminate an unnecessary barrier to the implementation of West Virginia's Workplace Freedom Act," Senate President Mitch Carmichael said. "For more than a year, the will and progress of our Legislature – and the majority of the citizens it represents – has been unreasonably denied.
"With the dismissal of this clearly erroneous preliminary injunction, West Virginia's working men and women are finally free to exercise their constitutional right to choose whether they want union representation. Finally, the freedom to work and provide for one's family is not beholden to a union membership card."
Carmichael said Kentucky has been successful in attracting new jobs since it enacted right to work laws.
"These are jobs that should be in West Virginia," he said. "We have already lost too many plentiful job opportunities. With this Supreme Court decision today, West Virginia can finally say that it is open for business. No longer should this state be passed over due to archaic labor laws.
"Without question, West Virginians have incredible talent and ability. Providing our citizens with the freedom to work will revolutionize our economy. The work that the Legislature began in 2016 to make this great state a shining example of freedom has finally begun to pay off. We are incredibly confident that despite any legal challenges that remain, West Virginia is today, and will continue to be, a freedom-loving, right-to-work state."
House Speaker Tim Armstead agreed.
"I'm glad the state Supreme Court has dissolved this injunction and allowed West Virginia to once again join the majority of states as a right-to-work state," he said. "In doing so, the court recognized that the unions' arguments were baseless and that no court in this country has ever struck down this type of law.
"We are also pleased that the court recognizes the role of the Legislature in crafting the laws of our state. We studied this issue for more than a year before passing the law, including commissioning a WVU study to assess its economic benefits. We know job creators consider right-to-work laws an important factor in investing in any state, and I believe this law will help us put West Virginians back to work.
"I remain confident that the law will ultimately be upheld once its merits are considered in full, and hope the court finishes consideration of this matter quickly."
West Virginia Supreme Court of Appeals case number 17-0187