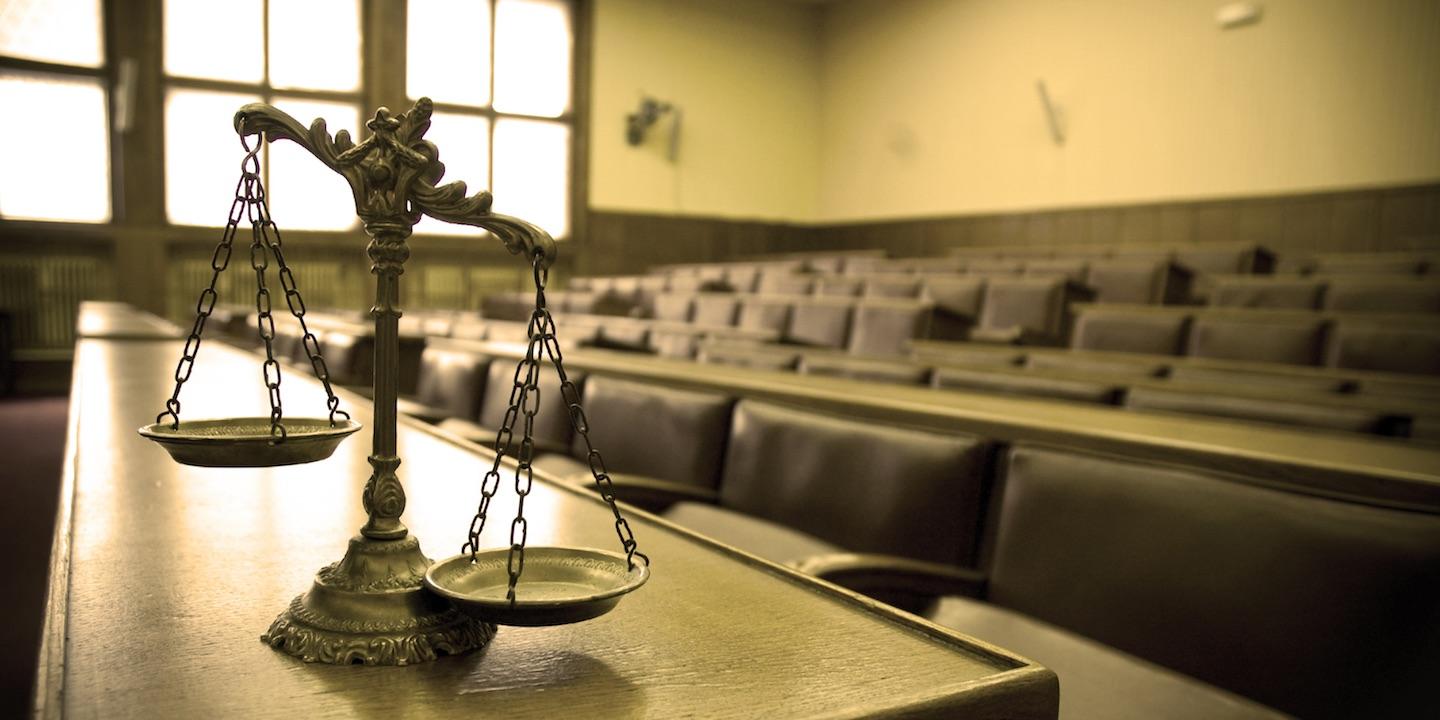 MORGANTOWN — This year's winner of West Virginia University College of Law Baker Cup says she came away from the moot court competition with more than simply the much coveted annual prize.
"Pride, confidence and a sense of accomplishment," 2018 Baker Cup winner Allyson Chandler told The West Virginia Record. "Pride, not just in myself, but in my fellow classmates. Everyone put in so much hard work and argued vigorously on behalf of the client. There are some great advocates at WVU.
"I also gained confidence in myself and my abilities after arguing against them and a sense of accomplishment for reaching my goal at the end of the competition. The Baker Cup was a well-organized and hard-fought competition. I am humbled and honored to have been a part of this great tradition at the College of Law."

2018 Baker Cup winner Allyson Chandler giving her arguments during the competition while fellow competitor Mitch Moore, to Chandler's right, reviews his notes.
Winning the Baker Cup is a high point, Chandler said, adding, "this win means so much to me."
"I love appellate advocacy and the Baker Cup is a fantastic chance to show off your skills," she said. "Having the chance to argue a case in front of professors, attorneys, and judges is both exciting and nerve wrecking. Arguing against classmates is even more so. Competing against other great advocates in moot court gives me the confidence to believe I can be successful in practice as well.
Established in 1925 and held each spring semester, WVU Law's Baker Cup provides law school students an opportunity to develop appellate advocacy skills in a competitive environment. This year's competition came down to Chandler and Mitch Moore.
WVU Law's Moot Court "is a co-curricular organization designed to recognize and reward students for their oral and written appellate advocacy skills, as well as strengthen and further refine those skills," the university's website says. "Board members compete in and manage two in-house appellate moot court competitions, participate in various intercollegiate, national and international moot court competitions, and conduct monthly meetings. Students who successfully complete all the requirements for Moot Court board membership will earn academic credit."
WVU Law's Moot Court board seeks to help students develop appellate brief writing and oral advocacy skills, according to information at the university's website. Eighteen students chosen from fall semester appellate advocacy classes and two students from the cups write-on competition make up the board.
Chandler, a native of Hamlin in Lincoln County, received her B.A. in English literature from West Liberty University in 2016 and decided to attended WVU Law following a tour of the college.
"The people I met were fantastic and truly captured the welcoming spirit of the College of Law," she said. "I knew then that I would come to WVU, and I have not regretted that choice since.
As she entered her second year at WVU Law, Chandler became eligible to complete in the Baker Cup.
Fourteen students competed in this year's event with the assigned "problem" concerning gender-based employment discrimination under Title VII. "The competition began in late December when the fact pattern was released," Chandler recalled. "I spent several days researching the issue and reading the case law. After filing my brief in January, I began practicing for the oral argument rounds. Although I had only briefed the Respondent argument, I had to prepare the arguments for both petitioner and respondent."
Chandler said she crafted her craft arguments for both sides in a way that was compelling and straight forward.
"The actual oral argument competition took place over three weeks," she said. "I spent the days between each argument round reviewing my feedback, making changes, and mooting my argument. This process was key in making it to the final round and winning the competition."