MORGANTOWN—Nathan Bennett and Sarah Petitto, West Virginia University College of Law students, are the first-ever recipients for the Rural Practice Scholarship.
Awarded by the West Virginia State Bar, the scholarship is meant to increase the number of attorneys practicing in rural communities across the state. This year, it was only offered to members of WVU College of Law's Class of 2020.
The scholarship pays tuition and fees for three years of law school in exchange for three years of legal practice in rural West Virginia after they graduate.
Bennett, who is from Denver, Colorado, said this scholarship means a great deal to him and that he is honored to be one of the first recipients.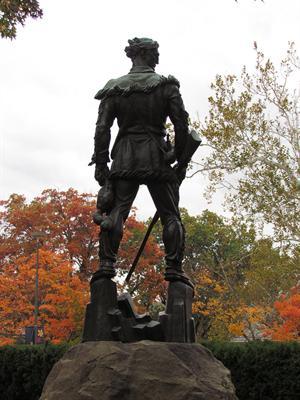 "It is no secret that rural communities struggle with having adequate services--legal services are one of many," Bennett said. "I take pride in the fact this scholarship will allow me to serve those who are in need of professional, affordable, legal representation, within rural West Virginia."
Bennett said he is excited to be able to work with the West Virginia Bar Association to see how this program can be refined to ensure future generations of law students can also take part in it.
"I plan to one day have my own law office to serve the community in which I live," Bennett said. "Upon graduation, I am going to work with the Bar, as they provide a mentor attorney in order to help you refine the legal training law school provides into real-life practice."
Bennett said there are certain counties that qualify for the program and of those, Grant and Pocahontas counties are where he is drawn to the most.
"As a non-traditional student and single parent, the scholarship allows me to focus less on the financial burden that accompanies a legal education, and more time focusing on my academic studies and my family," Bennett said. "It will also allow me to focus less on finding a job to pay down my student debt after graduation and more on serving the community in which I live."
Bennett graduated in 2017 from Western State Colorado University with a bachelor's in sociology with an emphasis in criminal justice.
Petitto, who is from West Milford, said the scholarship means that she will be able to make a difference in the type of small-town West Virginia community in which she grew up.
"It means that the WVU College of Law and the West Virginia State Bar care about serving underrepresented counties in West Virginia," Petitto said. "I plan to practice in Doddridge County when I finish with school. It's close to where I grew up, so I think I'll be able to relate to the people I would be serving there."
Petitto said the scholarship gives her the opportunity to give back to West Virginia.
"The scholarship will give me the opportunity to give back to the same type of community I grew up in without having to worry about going elsewhere, or even out of the state, to find a job that will allow me to repay my law school loans," Petitto said.
Petitto graduated in 2017 from West Virginia Wesleyan College with a bachelor's in biology.
The two students will also receive guidance from the West Virginia State Bar in finding summer jobs and permanent employment after they graduate.