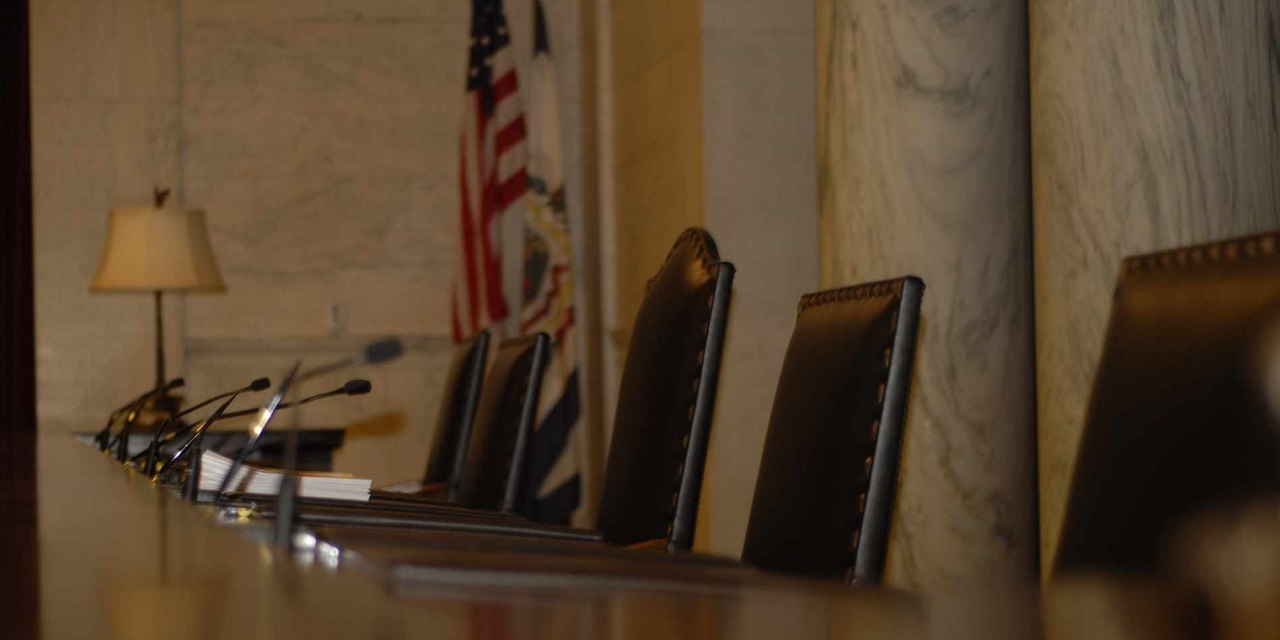 CHARLESTON – A Charleston attorney who is seeking a seat on the state Supreme Court is ready to mount a legal challenge to Gov. Jim Justice's temporary appointments to the court.
William Schwartz told The West Virginia Record he plans to file an writ of prohibition and order of mandamus soon regarding the qualifications of U.S. Representative Evan Jenkins and former House of Delegates Speaker Tim Armstead as temporary Justices, following the retirements of former Justices Robin Jean Davis and Menis Ketchum.
The deadline to challenge the temporary appointments is Sept. 19.

Schwartz
Schwartz, a founder of Harvit & Schwartz, said it is a simple matter of party lines. He noted the 2016 state Supreme Court ruling that required then-Gov. Earl Ray Tomblin to appoint a Republican to replace former state Sen. Daniel Hall. Hall was a Republican when he resigned, but he was elected as a Democrat. The state Democratic Party took the matter to the state Supreme Court.
Schwartz said both Davis and Ketchum were elected to the Supreme Court as Democrats. Both of those elections took place before judicial races became non-partisan in West Virginia.
"The bottom line is that if a Democrat resigns, you have to put a Democrat in that seat," said Schwartz, who was involved in the 2016 matter. "And both of these justices were Democrats when they were elected.
"It's straightforward, black letter of the law. It doesn't have to be me, but both Jenkins and Armstead are Republicans."
Also, Schwartz said the issue of Jenkins' basic qualifications will be addressed in the legal action.
Until just before he was appointed to the Supreme Court, Jenkins' law license had been inactive for almost four years. Jenkins has said he placed it on inactive status while he served in Congress from Dec. 2, 2014, to Aug. 9.
The state Constitution says a state Supreme Court candidate must have been admitted to practice law for at least 10 years prior to election.
Schwartz said another issue involves Armstead's vote as a legislator to give pay raises to state Supreme Court justices. That would mean Armstead voted to give his new position a pay raise.
"When I decided to run for a seat on the Supreme Court, I was hoping to be part of process of making the court better," Schwartz said. "At some point, someone has to follow the law.
"Two corruptions don't make a right."
Schwartz said his legal challenge is being handled by Teresa Toriseva and Josh Miller of Toriseva Law in Wheeling. Toriseva declined further comment on the matter.
When Justice made the appointments last month, he talked about how he felt it was important to appoint conservatives to the court. He said conservatism shouldn't be seen as a partisan label.
"Both of these appointees are true conservatives, and both have the honor and integrity we need to restore trust to our highest court," Justice said. "These men have dedicated their lives to serving the people of West Virginia.
"We've been dismantled in some ways and we've lost some level of confidence and some level of trust," Justice said during his Aug. 25 press conference announcing the appointments. "On a nationwide basis, it's cast a black eye. What we need to do more than anything is repair, move on and show the nation how committed we are as West Virginians to have a solid court and, in my opinion, without any question, a conservative court."
In addition to Justice's appointments of Jenkins and Armstead, Chief Justice Margaret Workman previously appointed Cabell Circuit Judge Paul T. Farrell to sit in for suspended Justice Allen Loughry during his suspension.
Also, 20 people have filed to run for two seats on the state Supreme Court in this November's general election. There are 10 candidates who filed for each seat.
The Division 1 seat has two years left on Ketchum's term, and the Division 2 seat has six years left on Davis's term.
Those who filed for the Division 1 seat are Armstead, Charleston attorney Harry C. "Bo" Bruner Jr., Williamson attorney Robert H. Carlton, Huntington attorney Ronald H. Hatfield Jr., Charleston attorney Mark Hunt, Clay County attorney Hiram "Buck" Lewis IV, Barboursville attorney D.C. Offutt Jr., Kanawha Circuit Judge Joanna Tabit of Charleston, Berkeley Circuit Judge Chris Wilkes of Martinsburg and Nitro attorney Jeff C. Woods.
Those who filed for the Division 2 seat are Jenkins, Schwartz, Kanawha Family Court Judge Jim Douglas of Charleston, Lewisburg attorney Robert J. Frank, former state Senate President Jeff Kessler of Glen Dale, Hurricane attorney Brenden D. Long, Wheeling attorney Jim O'Brien, Wheeling attorney Marty "Red Shoes" Sheehan, Charleston attorney Dennise Renee Smith and Boone Circuit Judge William S. Thompson of Madison.
The retirements of Ketchum and Davis came in the wake of state and federal investigations into spending practices of the Supreme Court.
Ketchum resigned in July before a federal information was filed against him. He pleaded guilty Aug. 23 to one count of wire fraud. His sentencing is Dec. 6.
Ketchum admitted to using a state-owned vehicle and a state purchasing card on golf trips to Virginia, according to a federal information filed last month. He had resigned and retired from the court last month, weeks before the information related to misuse of a state vehicle was released.
Ketchum, 75, faces a maximum sentence of 20 years in prison and a $250,000 fine. He is free on a $100,000 bond pending sentencing.
An information is used by federal authorities when a defendant agrees to plead guilty and waives his right to an indictment. An information can't be filed without a defendant's consent. It also usually means the defendant is cooperating with federal prosecutors. U.S. Attorney Mike Stuart and federal investigators have been examining the state Supreme Court's spending practices.
Ketchum used a state-owned vehicle to commute from his home in Huntington to the court in Charleston starting in 2012, according to the information. That was allowed by his fellow justices.
Davis resigned earlier this month on the same day the House of Delegates passed articles of impeachment against her, Chief Justice Margaret Workman, suspended Justice Allen Loughry and Justice Beth Walker.
Loughry faces a 25-count federal indictment after the federal grand jury issued another second superseding indictment against him earlier this month. The new charges allege Loughry, 48, used a state vehicle to travel to his native Tucker County to attend a court hearing for his father and used a state credit card to purchase gas for personal travel. In total, Loughry faces 17 counts of wire fraud, three counts of mail fraud, three counts of making false statements to federal agents, one count of obstruction of justice and one count of witness tampering.
He also is named in a 32-count charge from the state Judicial Investigation Commission of violating the Code of Judicial Conduct by misusing state resources and lying about it.