CHARLESTON – The beginning of the new year and the upcoming legislative session bring renewed focus to our state's future and the chance to change its outlook.
As we look ahead, we can't think too long about the needs and challenges we face in West Virginia without turning our attention to jobs and the economy. Both are critical components to a vibrant state and a prosperous future for our residents.
Beginning in early 2016, West Virginia slowly and steadily added jobs, meaning a net increase in employment for our state's working families. We are beginning year four of adding jobs in a state that needs employment, opportunity and hope. We cannot lose focus of this critical need.
Surveys of West Virginians indicate residents want an improved economy that supports a better way of life. The West Virginia Chamber of Commerce has many ideas to enhance the economy. During the last year, we engaged with various state, national and international business leaders to identify what it will take to further change West Virginia's narrative. Couple this with the fact we are an organization of the state's leading employers, who voluntarily band together to advance policy initiatives, we offer invaluable resources that can contribute to our state's growth.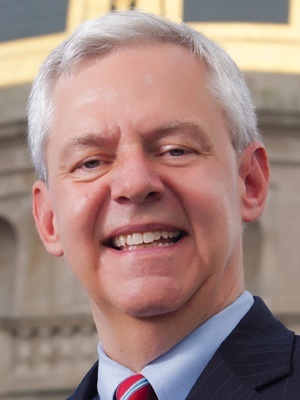 Roberts
Specific changes are needed in this upcoming legislative session. Education, energy, manufacturing, broadband, tourism and growth in small businesses top the list of urgent matters. Each specific issue should be a priority in 2019.
We know education is the key to success in the 21st century. Education supports a strong economy by preparing the talent pipeline. We must recognize that employers view education as a key component when selecting locations for business growth. No matter the report or source, all indicators and statistics communicate that West Virginia must make changes to better serve its children. Because of this, we must do more to help our students prepare and support our teachers. Students must be given the necessary skills in our K-12 system to succeed in life. Nothing will affect the state's future as much as the quality of our school system, and it begins by setting the bar of expectation higher.
We believe energy plays a major role in our economy. Activity around natural gas and coal account for nearly one quarter of our state's economic base by creating jobs, tax revenue and improvements to quality of life. West Virginia must encourage the production and use of natural resources, which lead to energy output and provide jobs and taxes across our state.
Available, low-cost energy, chiefly in the form of electricity, has spurred a century of better living conditions throughout the world. With this understanding, the chief goal of underdeveloped nations is the production and distribution of electricity. West Virginians should be proud of our energy-producing heritage and examine the opportunities available from further energy production and use.
Manufacturing must take high priority. Manufacturing companies provide many of our best jobs, contribute substantially to the tax base and are a natural fit in our economic mix. States throughout America compete earnestly for these jobs. Manufacturers need reasonable and fair tax and regulatory policies, accessible energy supply, a transportation network and a work-ready workforce. Our state must pay attention to these needs if we wish to attract and keep these employers.
Broadband and the information superhighway must be a priority on our "to-do" list. The technology revolution has come upon us quickly. Cell service and high-speed internet are absolute needs throughout our hills and valleys. To miss this opportunity would spell disaster for the next generation of West Virginians. Assuring access to high-speed, consistently available, affordable broadband will help move our state forward; we urge the Legislature's attention and support for its immediate expansion.
Tourism and support for small business initiatives add greatly to our state's economic base and well-being. Visitors are big spenders. Enhancing our tourist and visitor infrastructure and supporting a full-blown promotional effort to show our state's wonderful assets also will improve our economic standing. Small businesses are vital contributors to job creation and economic vitality throughout West Virginia.
Declining employment and the loss of so many mining jobs put West Virginia in a deep hole just a few years ago. The enactment of new policies, designed to help us compete regionally and globally, helped spawn investment and opportunity. To highlight its success, 16,000 new jobs were created in West Virginia since mid-2016. Let's build on this success by making necessary changes to bring more good news to our residents.
The West Virginia Chamber of Commerce is deeply committed to our state's future and to working with all who seek a brighter future for our state. We look to 2019 with optimism.
Roberts is president of the West Virginia Chamber of Commerce. This op-ed originally appeared on the Daily Mail editorial page of the Charleston Gazette-Mail.