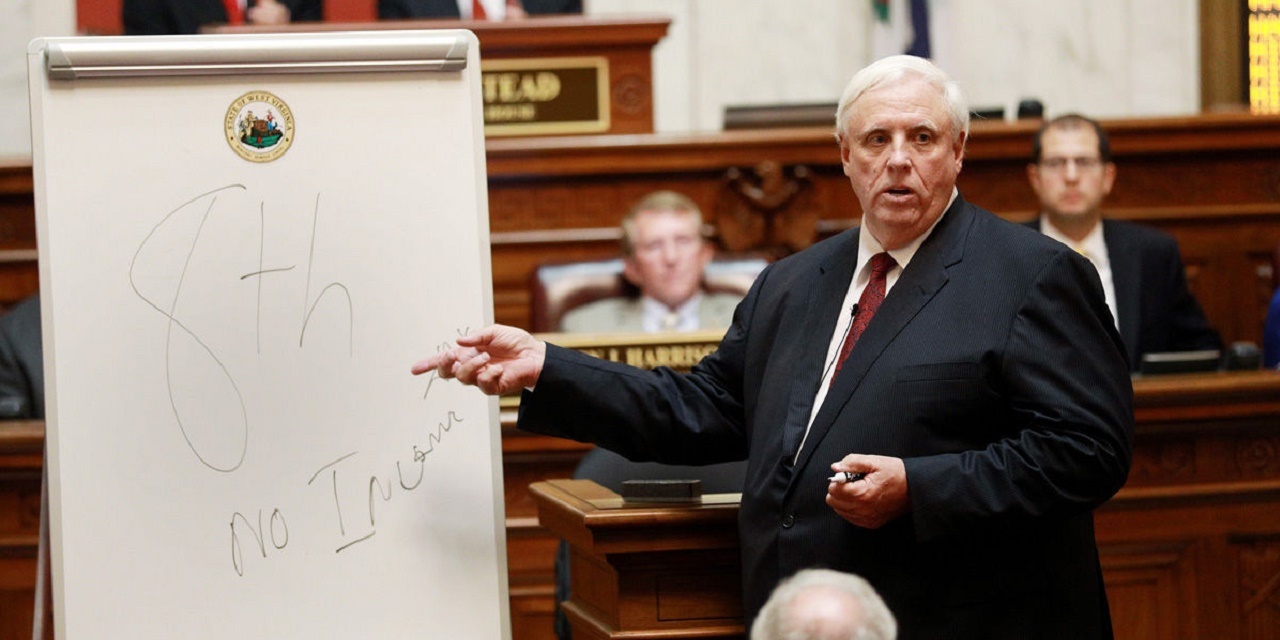 CHARLESTON — Gov. Jim Justice has been asked to appear in a Maryland case before a hearing examiner in July.
West Virginia MetroNews reported Justice is scheduled to appear before Hearing Examiner Karen Krask at the Frederick County Courthouse on July 15 to answer questions about a judgment issued in 2017.
Middletown Valley Bank sued Justice Farms of North Carolina in 2017, alleging Justice owed on several loans.
In 2016, Middletown Valley Bank provided Justice Farms with four separate loans. Justice personally guaranteed the loans.
In a notice of foreign judgment filed in Greenbrier Circuit Court, the total judgment ended up being $1,479,791.07.
The order of examination was filed in May, ordering Justice to appear before Krask "for the purposes of answering questions under oath in aid of enforcement of the judgments that were entered in favor of Middletown Valley Bank and against Justice Farms of North Carolina..."
The order states that Justice should bring with him all documents and records relating to assets, income, expenditures and business transactions from Jan. 1, 2018, to the present.
Justice said at a press conference on June 10 that the public shouldn't worry about his "stuff."
"At the end of the day I would say to you one thing, don't worry about my stuff," Justice said at the press conference. "Don't worry about my businesses. Don't worry about a thing in the world except this state. That's what you should be focused on is this state. Because things are going to be fine in my business world."
Justice said things are going to be fine in his business world and with the state as well.
In response to Justice's comment, State Sen. Craig Blair (R-Berkeley) said that while Justice lectured media and taxpayers not to worry about his businesses, West Virginians needed to know the truth.
"As with everything else, Governor Justice thinks this debate is about him," Blair said in a statement. "The truth is, it's not. I am not worried about Governor Justice's 'stuff' one bit. I am worried about our state, our students, our taxpayers, our roads and bridges and all of our hardworking men and women."
Blair said West Virginians deserve to know where all of their tax dollars are spent.
"Too often, West Virginia has seen politicians focused more on themselves than on the people they represent," Blair said. "We serve the people who elect us, not the other way around. No matter how many times Governor Justice implies that the voters should be thankful for him or that they 'need' him more than he needs them, it is just another glaring example of the failed policies and politics of the past that have left many areas of our state in ruin. It must stop."
Blair said Justice didn't lead on issues of job creation and economic development, education or road improvement.
"Despite the legislature appropriating him millions and millions of the taxpayers' dollars to direct his Department of Highways to fix our roads and bridges, Governor Justice has spent most of his time fighting off federal investigations and lawsuits from people who were never paid for the work they did for him," Blair said.
Blair said the issues at hand are not about parties or politics to him.
"We can't afford more politicians who care more about themselves than they do the people of this state," Blair said. "Decades and decades of that kind of politics is what got us into this mess. That won't stand any longer."