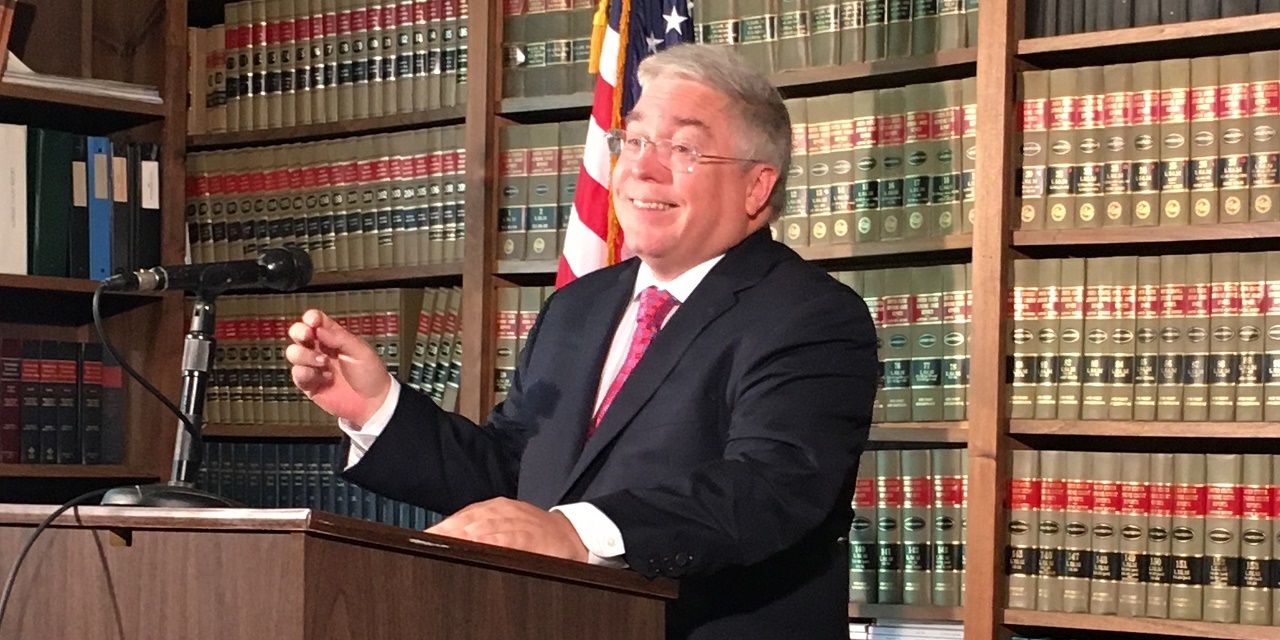 PHILADELPHIA, Pa. — West Virginia Attorney General Patrick Morrisey joined with 43 other attorneys general to release the full. unsealed complaint against national generic drug makers named in a price-fixing lawsuit.
The states filed the antitrust lawsuit alleging the nation's largest generic drug companies conspired to inflate and manipulate prices, cut competition and restrain trade for more than 100 different drugs.
The lawsuit was originally filed May 10 in U.S. District Court for the District of Connecticut. It also lists more than a dozen senior executives as defendants, including Mylan Vice President of Sales James Nesta.
"The skyrocketing price of health care remains a paramount concern, and any company found to artificially inflate and manipulate prices must be held accountable," Morrisey said. "The unredacted complaint allows the public to see in shocking detail the degree to which we allege the defendants sought to reduce competition to the detriment of West Virginia patients."
The unredacted complaint reveals email exchanges by Mylan and Sandoz executives, alleging they colluded to split market share for blood pressure medication when they released their generic versions of Valsartan back in 2012.
Mylan and Sandoz executives spoke nearly two dozen times in the weeks leading up to the generic drug release, according to the complaint.
The complaint lays out email exchanges wherein H.F., a senior executive of Sandoz Germany said "...sometimes a little help from our competition is welcome as well," and with D.D. from Sandoz North America saying, "I guess this is what they call co-opetition."
The complaint also details how Teva and other co-conspirators decided "embarked on one of the most egregious and damaging price-fixing conspiracies in the history of the United States."
"Teva and its competitors sought to leverage the collusive nature of the industry to not only maintain their 'fair share' of each generic drug market, but also to significantly raise prices on as many drugs as possible," the complaint states. "In order to accomplish that objective, Teva selected a core group of competitors with which it already had very profitable collusive relationships – Teva referred to them as 'High Quality' competitors – and targeted drugs where they overlapped."
The attorneys general claim Teva had understandings with its highest quality competitors to lead and follow each other's price increases, and did so with great frequency and success, resulting in many billions of dollars of harm to the national economy over a period of several years.
Morrisey said in a previous statement the allegations that were in the complaint, when proven, are illegal and those who participated in this type of conspiracy must be held accountable.
"Antitrust violations drive up prices for the consumer and, in this instance, it impacts those in desperate need of prescription drugs," Morrisey said.
The lawsuit claims 20 generic drug makers engaged in a "broad, coordinated and systematic campaign to conspire with each other to fix prices, allocate markets and rig bids for more than 100 different drugs."
The complete list of companies named as defendants are Mylan Pharmaceuticals, Teva Pharmaceuticals, Pfizer Inc., Sandoz Inc., Actavis Holdco US Inc., Actavis Pharma Inc., Amneal Pharmaceuticals Inc., Apotex Corp., Aurobindo Pharma U.S.A. Inc., Breckenridge Pharmaceutical Inc., Dr. Reddy's Laboratories Inc., Glenmark Pharmaceuticals Inc., Greenstone LLC, Lannett Company Inc., Lupin Pharmaceuticals Inc., Par Pharmaceutical Companies Inc., Taro Pharmaceuticals USA Inc., Upsher-Smith Laboratories LLC, Wockhardt USA LLC and Zydus Pharmaceuticals (USA) Inc.
The lawsuit seeks damages, civil penalties and actions by the court to restore competition to the generic drug market.
In the 524-page complaint, West Virginia says the defendants' actions violate the West Virginia Antitrust Act.
"These violations substantially affected the State of West Virginia and had impacts within the State of West Virginia," the complaint states. "West Virginia affirmatively expresses that the state is not seeking any relief in this action for the federal share of funding for West Virginia's Medicaid Program. Claims for damages for any federal monies expended by the State of West Virginia are hereby expressly disavowed."
Connecticut AG William Tong led the lawsuit, which was joined by the AGs from West Virginia, Alabama, Alaska, Arizona, Colorado, Delaware, Florida, Hawaii, Idaho, Illinois, Indiana, Iowa, Kansas, Kentucky, Louisiana, Maine, Maryland, Massachusetts, Michigan, Minnesota, Mississippi, Missouri, Montana, Nebraska, Nevada, New Jersey, New Mexico, New York, North Carolina, North Dakota, Ohio, Oklahoma, Oregon, Pennsylvania, Puerto Rico, Rhode Island, South Carolina, Tennessee, Utah, Vermont, Virginia, Washington and Wisconsin.