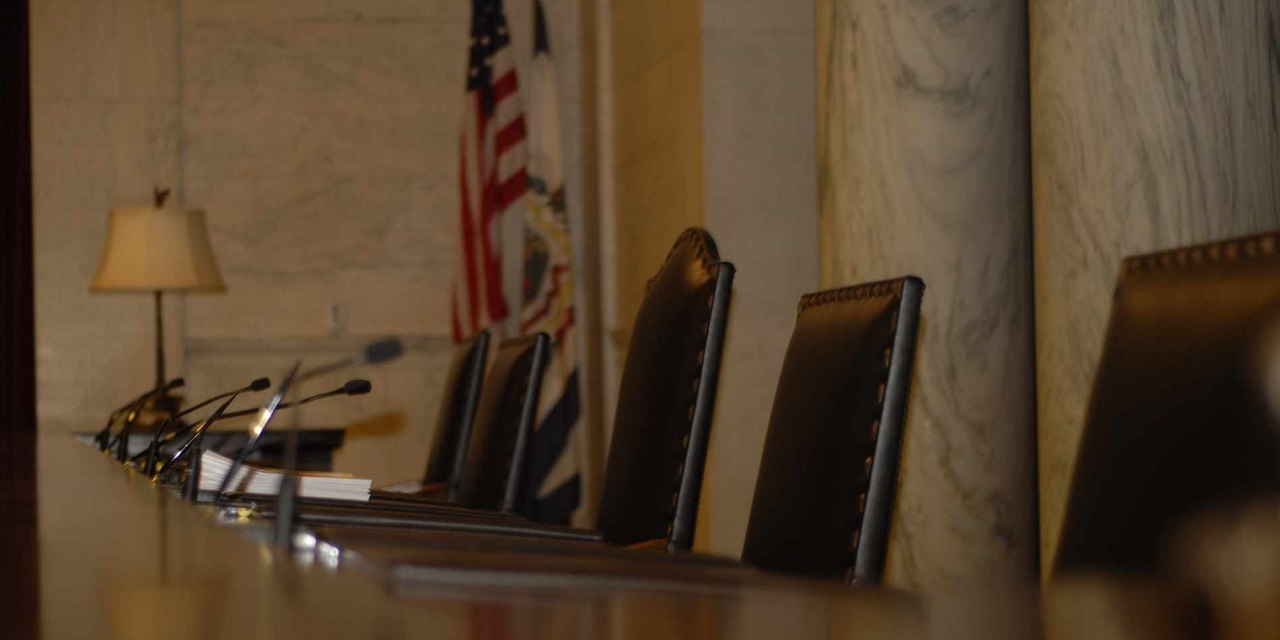 CHARLESTON – Former state Supreme Court Justice Richard Neely wants his old seat on the bench.
The 78-year-old Neely, also a former state legislator, announced his intentions to run for a seat on the bench Oct. 9. He is a partner at Neely & Callaghan in Charleston.
"Here's the deal," Neely told The West Virginia Record. "The West Virginia court system, in its entirety, is in complete shambles. It takes up to 28 months for a case to wind its way through the Supreme Court. The Supreme Court is delaying everything now and, in doing so, is violating a housekeeping provision of the West Virginia Constitution. Article 8, Section 4 dictates how you're going to do an appeal.

Neely
"It worked well when I was on the court. If you came to the court and made an application for a writ in May, you likely would be on the argument docket in September and have a decision in November."
Neely says the entire system needs "better quality control."
"We have judges who are incapable of deciding motions," he said. "Thus, some of these cases languish for years. The judges either can't write decision themselves or they won't let go of the case to let a law clerk write it for them. You have to tighten the system up where we have judges who aren't any good."
Neely also said he believes abuse and neglect cases should be taken out of the hands of circuit judges and given to a core group of lawmasters "who have the time and inclination to do something" about the cases.
"Circuit judges don't like those cases, they don't have time for them," Neely told The Record. "The lawmasters have backgrounds and degrees to handle these cases better. And, that might, indeed, cut down on about 20 percent of our foster care problems as well.
"My rule is that any family, no matter how dysfunctional, is better than no family. That might be cynical, but it's based on experience."
That experience is also part of why Neely says he's running for the court. He said he's running for the 12-year term currently held by Justice Tim Armstead, who was appointed to the court last year and won a special election last fall to retain the seat until the 2020 vote.
"I'm doing it because the system is going to get worse and worse as it goes along," Neely told The Record. "It will get further and further behind. I don't think badly of anyone there now. I think highly of Justice Armstead. The only difference is experience.
Let's say you have a 2012 Ford. Would you rather have a recently minted mechanic with a degree from MIT or a guy who has worked on 300 of those 2012 Fords? I'm the old guy who has worked on Fords my entire life. Again, this isn't a criticism of anyone on the court, but the system is broken and no one is fixing it.
"If I get the three votes, I will fix this within 60 days. I don't need consultants, studies, work groups or anything else. I'll just flat fix it."
Neely said he's been considering another court run for the last couple of months.
"I've practiced a lot of law in the last 20 years," he said. "I've just had a lot of real experience. This court system needs to be fixed. Finally, a couple of months ago, I realized there isn't anybody here who can fix this but me.
"The reason is I'm not running in spite of the fact I'm old. I'm running because I'm old."
Neely is widely considered one of the most colorful personalities in state government history. He was a member of the state Supreme Court from 1973 to 1995.
In 1985, Neely garnered headlines when he fired his Supreme Court secretary after she refused to babysit his 4-year-old son. Then, Neely resigned as chief justice and gave the woman back her job. He received a public admonishment for that.
A year later, he filed a $38,000 lawsuit against TWA when his luggage arrived 70 minutes late at JFK in New York, $3,000 of that amount was listed as a speaker's fee because he said he told other passengers about the delay. He settled out of court for $12,500.
"At the end of the day, voters are going to listen to what I tell them is wrong with the court system," Neely told MetroNews host Hoppy Kercheval during an Oct. 9 interview on "Talkline." "It's sort of like Donald Trump. Nobody asks whether Donald Trump does or doesn't grab women from behind or make racist comments.
"What they want to know is, 'Is Donald Trump going to make America great again?' If they think he is going to make America great again, they don't care about his personal life."
Neely graduated in 1964 from Dartmouth College in 1964 and from Yale Law School in 1967. He served in the U.S. Army in Vietnam from 1968 to 1969 and was awarded the Bronze Star. He is the grandson of Matthew M. Neely, who served as governor and U.S. Senator.
Neely started his own law practice in 1970 in Fairmont and was elected to the Legislature before winning a seat on the state Supreme Court in 1972.
Three of the five seats on the state Supreme Court will be on the 2020 ballot. The non-partisan election will take place during the May 12 primary.
Two of the seats are for positions at the end of the regular 12-year terms. Those are for the seats held by Justice Margaret Workman and Armstead. Armstead was elected last year to finish the term of former Justice Menis Ketchum. The third is a special election to fill the seat that was held by former Justice Allen Loughry. In December, Gov. Jim Justice appointed Raleigh Circuit Judge John Hutchison to temporarily fill the position. The term for the person who wins that seat term will end in 2024.
With Neely, six people currently are running for the Supreme Court. The others are Armstead, Hutchison, Kanawha Circuit Judge Joanna Tabit, Kanawha Family Court Judge Jim Douglas and Charleston attorney William Schwartz.