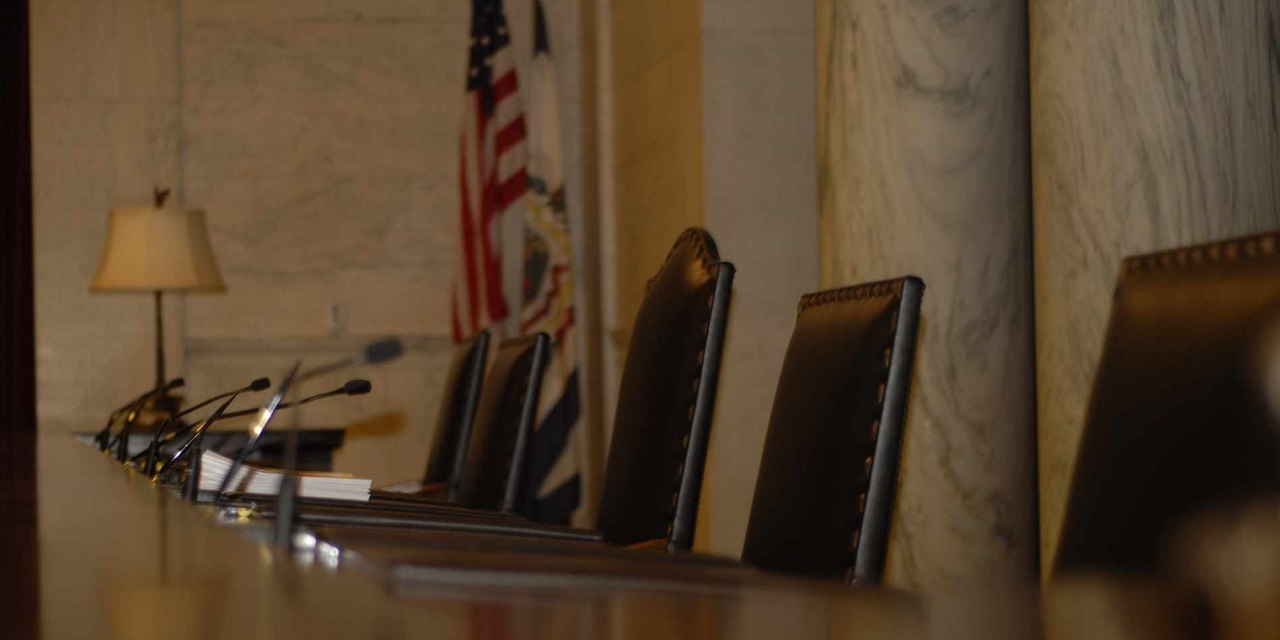 CHARLESTON – Richard Neely says people today are too quick to focus on the negative.
"People want to dwell on the negative," the former Justice and current Supreme Court candidate said. "The truth is I'm not a particularly partisan person. People like to bring out the negative because they just don't like me."
One group that has been critical of Neely's time on the state Supreme Court is West Virginia Citizens Against Lawsuit Abuse.

Neely
"After decades of corruption and incompetence, the West Virginia state Supreme Court has finally been restored to a stable and fair governing judicial body," WV CALA Executive Director Jordan Burgess told The West Virginia Record. "Under the leadership of Chief Justice Beth Walker and Justices Evan Jenkins and Tim Armstead, the people of West Virginia have confidence in our state Supreme Court.
"No one wants to bring back the bad old days of jackpot justice, including when Richard Neely was on the court. West Virginians don't want more runaway verdicts and embarrassing actions and rhetoric from greedy personal injury lawyers like Richard Neely."
Neely says the notion that he is anti-business is absurd.
"I am a businessman," the Charleston attorney told The Record. "I have always been in business. I'm the general manager of a real estate holding company. I'm general counsel of a national 5G internet wireless provider called WiLine Networks Inc., which is headquartered in Silicon Valley, California.
"I regularly defend businesses in cases. I have a major case in federal district court for a West Virginia company with about 600 employees. I'm not someone who is unfamiliar with business.
"And remember, I was brought back as a retired judge to write the opinion in the state v. Morgan Stanley. That ruling reversed a big judgment against Morgan Stanley."
Neely said he knows businesses have issues with the state court system.
"I know that businesses have really serious problems of being extorted by actions that are taken by rogue plaintiff's lawyers who, for example, weaponized discovery," he said. "One of the major abuses in the legal system is the weaponization of discovery, such as lawyers trying to exact a settlement by causing enormous effort on the part of a company to generate thousands and thousands of documents. That's a serious abuse.
"I understand that. Because I'm in the business, I understand a lot of the abuses that go on out there. On the other hand, I understand the abuses on the other side as well."
Neely cited some insurance companies as examples.
"Some insurance companies are very good," he said. "Others aren't. One time, I had a secretary who had just bought a new car. She parked in front of her house, and some drunken swine sideswiped her. State Farm told her they could just fill in the old door with putty and paint it. They said it would be as good as new. She wanted a new door, but they knew they had the upper hand.
"Well, the Wall Street Journal had just happened to ask me to write an op-ed piece about damages. I used this as an example for punitive damages. The insurance company was acting as arrogantly as they could. When that op-ed piece came out talking about State Farm and this car, they gave her a new door the next day.
"You often need muscle because some insurance companies behave in a truly abusive fashion. On the other hand, there are many times when people try to take advantage of the insurance companies."
Neely said insurance companies also are the major push behind efforts to get an intermediate court of appeals, which he says is unnecessary.
"The insurance industry wants to make the court system as incompetent as possible," Neely said. "They have millions of dollars in lobbying money to make the court system totally and completely incompetent. They do this because the more incompetent and expensive it is, the easier it is for insurance companies to chisel their policyholders.
"It's only bad business if the insurance company figure out you'll leave them and go someplace else. But what actually happens is with the cheap insurance companies, the ones that are abusive, they rotate policyholders. Someone insured by State Farm gets mad and switches to Nationwide. Then, someone with Nationwide gets mad and goes to Allstate."
The 78-year-old Neely, also a former state legislator, announced his intentions to run for a seat on the bench Oct. 9. He is a partner at Neely & Callaghan in Charleston.
Neely graduated in 1964 from Dartmouth College in 1964 and from Yale Law School in 1967. He served in the U.S. Army in Vietnam from 1968 to 1969 and was awarded the Bronze Star. He is the grandson of Matthew M. Neely, who served as governor and U.S. Senator.
Neely started his own law practice in 1970 in Fairmont and was elected to the Legislature before winning a seat on the state Supreme Court in 1972.
Three of the five seats on the state Supreme Court will be on the 2020 ballot. The non-partisan election will take place during the May 12 primary.
Two of the seats are for positions at the end of the regular 12-year terms. Those are for the seats held by Justice Margaret Workman and Armstead. Armstead was elected last year to finish the term of former Justice Menis Ketchum. The third is a special election to fill the seat that was held by former Justice Allen Loughry. In December, Gov. Jim Justice appointed Raleigh Circuit Judge John Hutchison to temporarily fill the position. The term for the person who wins that seat term will end in 2024.
With Neely, six people currently are running for the Supreme Court. The others are Armstead, Hutchison, Kanawha Circuit Judge Joanna Tabit, Kanawha Family Court Judge Jim Douglas and Charleston attorney William Schwartz.