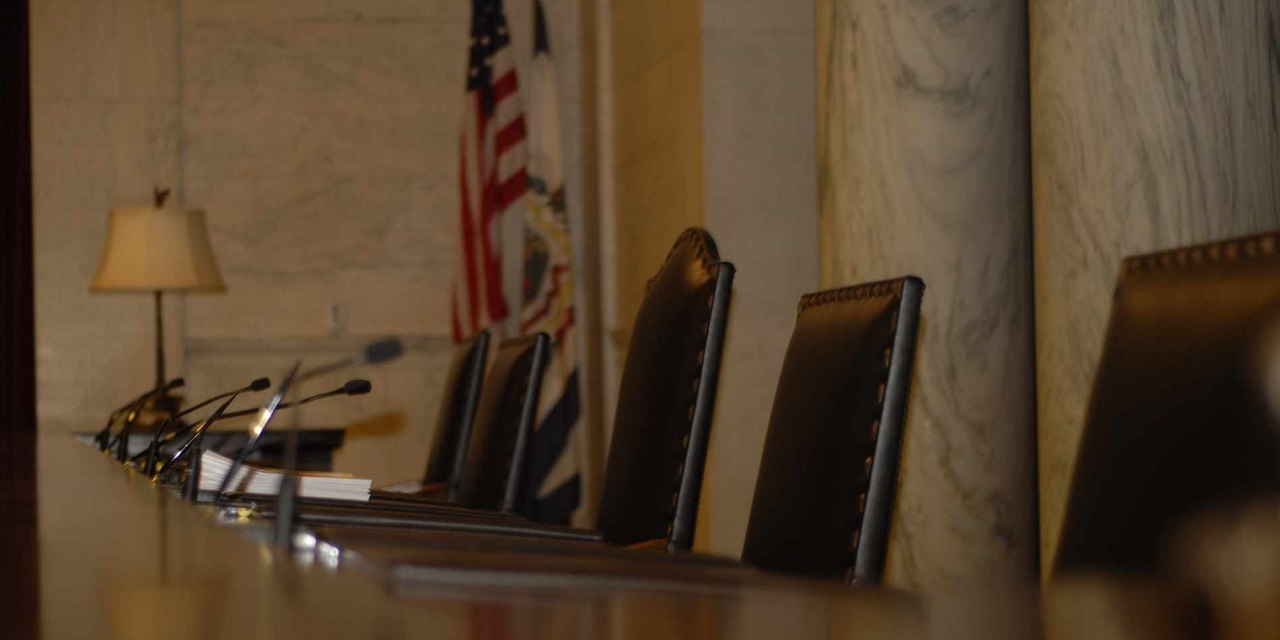 CHARLESTON — The West Virginia Supreme Court of Appeals heard oral arguments in a case seeking a determination that a new statute on payments to senior status judges is permissible.
Both sides take the same position on the matter. State Treasurer John D. Perdue filed the petition in June against State Auditor John B. McCuskey.
Mark Adkins and Richard Heath of Bowles Rice represented Perdue.
"We're here seeking petition to ask the court to conclude that West Virginia Code § 51-9-10, as amended, is enforceable as a matter of law and as a result the state auditor should be instructed not to make payments to senior status judges contrary to this statute," Adkins said during oral arguments.
Adkins said he wanted the court to find it was enforceable by a matter of law.
"It would provide clarity and ensure that both the state treasurer and auditor would be complying with state law," Adkins said.
Steve Connolly, counsel for McCuskey, said this the conflict needed to be rectified.
"We believe the petition did an excellent job in the petition to show you the position we are left in when a requisition would come through for payment," Connolly said. "We have a conflict where the statute was passed after the Workman decision said something to the contrary.
Connolly said they want the Supreme Court to resolve the conflict before an auditor is put in the position to question what to follow.
"What we're trying to do is resolve this conflict now before it becomes an issue," Connolly said.
In its petition, the auditor's office was questioning whether the Legislature has the authority to enact statutes setting compensation for temporarily assigned senior status judges; whether the auditor is bound by the senior status judge compensation limits set forth in West Virginia Code § 51-9-10 and must be prohibited from issuing warrants for payment in violation thereof; and whether an administrative order from the Chief Justice of the Supreme Court of Appeals nullifies West Virginia Code § 51-9-10 in its current form.
West Virginia Code § 51-9-10 became effective on March 9, allowing the Supreme Court to recall retired judges and justices for continued service on a temporary, voluntary or as-needed basis.
"While the Legislature's latest amendments to West Virginia Code § 51-9-10 seemingly align state law with the previously issued administrative order, the Workman ruling leaves doubts as t how the Treasurer's Office must proceed in processing state payments moving forward," the treasurer's office's petition states.
In the auditor's response, McCuskey requests that the court address and resolve the issues raised in the petition and provide clarity on how the auditor and the state treasurer shall proceed under the current state of law in West Virginia.
Justices Margaret Workman and Tim Armstead recused themselves from hearing arguments. Ohio Circuit Judge Michael J. Olejasz and Berkeley Judge Michael D. Lorensen sat in their place.
West Virginia Supreme Court of Appeals Case number: 19-0532