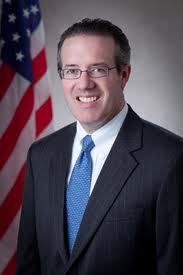 CHARLESTON – For a second time, U.S. Attorney Booth Goodwin has charged Mingo County Circuit Court Judge Michael Thornsbury with conspiring to deprive someone's civil rights.

On Sept. 19, Goodwin, the U.S. Attorney for the Southern District of West Virginia, alleged Thornsbury conspired with other elected officials to cover up evidence of drug use and misconduct by late Mingo Sheriff Eugene Crum.

In August, Goodwin charged Thornsbury with instructing a co-conspirator to plant illegal drugs under the truck of a romantic rival. The man was the husband of Thornsbury's secretary.

The information filed by Goodwin on Sept. 19 alleges Crum's campaign fund owed a debt to a man identified as "G.W." and ordered a confidential informant to purchase narcotics from G.W. earlier this year.

A search warrant of G.W.'s business led to the Feb. 1 arrest, but G.W. told FBI agents that he had provided narcotics to Crum in the past, the information says. He also told the FBI that Crum, who was murdered in April, had committed election law violations, it says.

"Defendant Michael Thornsbury, at all relevant times the sole circuit judge in Mingo County, was a close associate and political ally of Crum's," the information says.

"Sheriff Crum and Mingo County Prosecuting Attorney Michael Sparks, also a close associate and political ally of Sheriff Crum's, informed Judge Thornsbury that G.W. had provided the FBI with incriminating information regarding Sheriff Crum."

In response, a scheme was concocted, the information says. Thornsbury's role would be to offer G.W. a light sentence if he fired his attorney and replaced him with another one favored by the conspirators, the information says.

In doing so, G.W. would stop communicating with the FBI, it is alleged.

"(The conspirators) did knowingly conspire to injure, oppress, threaten and intimidate, under color of law, a person, that is, G.W., in the free exercise of rights and privileges secured to him by the Constitution and laws of the United States, including his right to counsel of his choosing under the Sixth and Fourteenth Amendments to the Constitution," the information says.

Thornsbury has been suspended by the state Supreme Court, with Senior Status Judge John L. Cummings replacing him on the Mingo bench. Former Justice Thomas McHugh is assisting with abuse and neglect, domestic violence, juvenile and other emergency issues.

Supreme Court Administrator Steve Canterbury has filed a complaint against Thornsbury with the Judicial Investigation Commission.

The Charleston Daily Mail reported that Thornsbury plans to plead guilty, but a motion to schedule a guilty plea hearing has been removed from his case. A notice says it was filed in error.

Goodwin announced the first indictment Aug. 19.

Goodwin alleges Thornsbury instructed a co-conspirator to plant illegal drugs under the truck of a man known as R.W., the husband of Thornsbury's secretary. Goodwin alleges this happened after the secretary, known as K.W., broke off the romantic relationship with Thornsbury.

However, the co-conspirator backed out of the plan at the last minute, Goodwin alleges.

Thornsbury then told a state trooper to file a criminal complaint against R.W., the indictment says. The indictment alleged R.W. was stealing scrap metal from his employer, even though R.W. had permission to salvage the metal.

A criminal complaint was filed against R.W. in December 2008.

Thornsbury presided over the grand jury in January 2009 and picked Jarrod Fletcher, the county's director of Homeland Security and Emergency Management with whom he co-owned real estate and a wine shop, as jury foreperson.

Goodwin alleges Thornsbury was able to co-opt the grand jury's authority and used it to victimize R.W. He created a set of subpoenas that ordered R.W.'s employer and other local companies to surrender private documents, Goodwin says.

One company resisted and discovered the business ties between Thornsbury and Fletcher, the indictment says. Thornsbury eventually abandoned his plan to use the grand jury against R.W., it says.

In 2012, R.W. was charged with assault and battery. He had been involved in an altercation with two other men, one of whom drew a gun. The charges against the two men were dismissed, and Thornsbury told the county prosecutor to ensure R.W. received six months' home confinement, the indictment says.

After R.W. refused a plea deal, the prosecutor dismissed the case on the eve of trial.

Delegates from Mingo County have also announced plans to introduce legislation that would assign a second circuit judge to Mingo County.

From the West Virginia Record: Reach John O'Brien at jobrienwv@gmail.com.