"The ultimate result of shielding men from the effects of folly,"said British philosopher Herbert Spencer, "is to fill the world with fools."
Herbert offered his prescient warning about a world filled with fools more than a century ago, and we don't have to look long or far to find numerous examples of the ill effects of folly-shielding. The driving skills and habits of American motorists, for instance, have declined dramatically as cars have become safer.
Kids today riding bikes or skating with their bodies covered in protective padding aren't half as tough as their bruised and callused parents were at the same age.
We're now at the stage of our evolution, or devolution, that everything has to be labeled so we know what it is. Doors are labeled "door" so we don't stand there like idiots waiting to be hit in the face, or try to walk through the wall instead.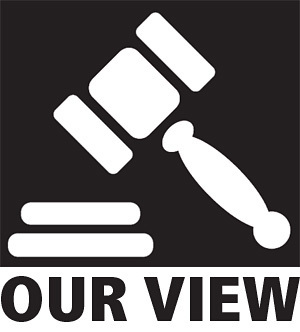 Steps are labeled steps so we'll know to raise or lower our feet and not remain motionless, thinking we're on an escalator.
Now it seems speed bumps must be labeled, too, so that drivers won't wonder what that rise is up ahead and launch themselves into space.
We wonder how fast Thomas O'Boyle was going when he hit the speed bump at the Stonewall Resort in Roanoke. O'Boyle was riding a bike, but he may have been going faster than expected, because the bike he was riding was a specialized Roubaix (an aluminum race bike retailing for as much as $10,000).
O'Boyle is suing the resort in U.S. District Court for the Northern District of West Virginia for the injuries he received when he hit the "unmarked" and "dangerous" speed bump and was thrown from his bike.
Now that we've reached the point that even safety devices such as speed bumps can be considered hazardous, what folly must we be shielded from next?