"We were kind of busy being judges and not paying attention to administrative things," said West Virginia Supreme Court Chief Justice Margaret Workman in response to the latest uproar over the most recent exposure of two justices' abuse of public funds to accommodate themselves in the extravagant style to which they wanted to become accustomed.
"It's going to take a long time to restore public confidence in the judicial system," she added.
You think?
In short, the judges pled guilty as charged. How could they not, with a prima facie case laid out in a legislative audit? A response that sounds like Whoops! Sorry. We didn't know we were doing anything wrong is inadequate. Most judges would bristle at such a lame excuse in court and let the foolish plaintiff, defendant, or attorney making it feel the full force of their wrath.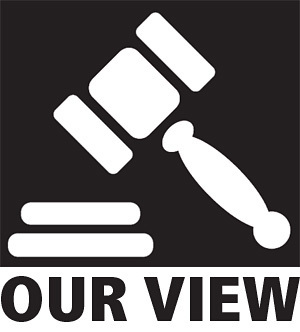 Hey, they're just judges, give them a break, right?
Baloney.
The wonder is that anyone's surprised by the supreme extravagance, after revelations of the outrageous amounts of taxpayer money spent on refurbishing justices' chambers and the high-priced pieces of furniture that had to be replaced but wound up in personal residences.
Now comes word that Justices Allen Loughry and Menis Ketchum took advantage of state vehicles for personal use without reimbursing the state for that use, at the time, or claiming it as a taxable fringe benefit.
"The Legislative Auditor finds that the instances documented in this report, taken together with media reports, show a complete lack of regard for the principles of fiscal prudence and responsibility" is how the audit findings begin.
The report said that "the justices and the Administrative Office of the Supreme Court of Appeals were clearly informed of the Court's responsibility to properly account for the justices' use of state vehicles and report the taxable fringe benefit associated with this use to the IRS."
If our state Supreme Court justices are qualified for their positions, they can't claim ignorance. If they truly were ignorant, they've no business being judges.