Pomp and circumstance have their place. It's good to show respect for authority figures, even if the persons occupying positions of authority are flawed mortals just like the rest of us, as they always are.
We don't put powdered periwigs on them like the Brits do, or did, but the black robes they drape themselves in and the elevated benches they roost on like royalty are meant to dignify the otherwise ordinary persons serving as judges.
If they weren't somewhat imposing figures, who would consent to have their judgments imposed? Without respect for judges, there would be no respect for the law. Anarchy could ensue.
If the rest of us must rise, so should the judges. They should seem worthy of those robes. If the rest of us show respect for them by virtue of their positions, the least they can do is make the effort to deserve that respect.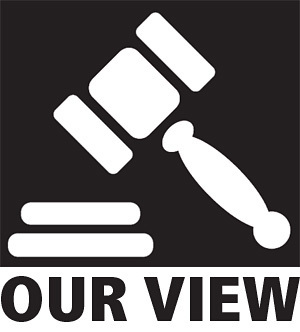 West Virginia Supreme Court Justice Allen Loughry did not deign to do that. The elevation went to his head, apparently, and he began to think that he really was superior.
Months ago, a federal grand jury began looking into allegations of misconduct on the part of Loughry and other Supreme Court justices. Last week, the Judicial Investigation Commission lodged a 32-count Statement of Charges against Loughry for violations of the Code of Judicial Conduct. Then, the state Supreme Court suspended him without pay.
Among the charges are that he lied under oath, converted government property for his personal use, charged the state for personal expenses – to name just a few of the allegations.
Gov. Jim Justice and legislative leaders from both parties are calling for his resignation. Should he not comply with their request, impeachment looms.
Loughry should resign and set an example for his colleagues on the court. We would respect him for that.