"I think every lawyer aspires to be a judge and sees it as the ultimate promotion, and it has been in the back of my head since I was in law school."
That's what one would-be West Virginia Supreme Court justice said recently as he announced his candidacy. "Supreme court judge" might look good on a resume, but, as far as we're concerned, a lifelong overweening ambition is enough to disqualify a wannabe.
We've had enough supreme court justices like that. Gong! Give him the hook. Open the trap door. Get him out of here. Next!
One of the possible downsides to impeachment (and conviction, should a two-thirds majority vote that way in the state senate): is the parade of possible replacements which could contain some candidates worse than their predecessors.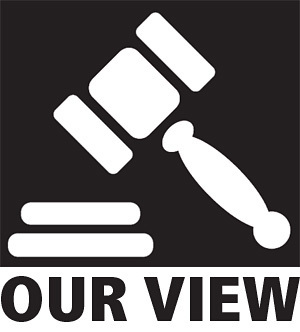 As you no doubt know, the number of state supreme court vacancies has increased lately and the growing list of aspirants hoping to fill the spots may soon look like the Black Friday line outside Walmart.
Menis Ketchum retired before impeachment proceedings began, but agreed to plead guilty to a federal information charging him with wire fraud for using a state owned vehicle and fuel card for personal travel. So far, nine persons have applied to temporarily fill his vacant seat.
Robin Davis resigned after she and her three remaining colleagues were all impeached. Margaret Workman and Beth Walker are going to fight impeachment, and Allen Loughry is campaigning for any seat outside of a federal penitentiary.
Last week, the grand jury issued another superseding indictment against Loughry, bringing the total number of federal charges leveled against him to 25. He now faces 17 counts of wire fraud, three counts of mail fraud, three counts of making false statements to federal agents, one count of obstruction of justice, and one count of witness tampering.
Anybody else out there looking to be a state Supreme Court justice? Now's your chance. You could hardly do worse than the incumbents.