'Nip it in the bud!'
That's what Deputy Barney Fife would blurt out on "The Andy Griffith Show" whenever a citizen of Mayberry would step out of line just a bit.
Barney (who, of course, was played by West Virginia native Don Knotts) was an advocate of the "broken windows" approach to law enforcement long before it was applied so successfully in New York City in the 1990s by Police Commissioner William Bratton.
Broken windows in a neighborhood are a sign to would-be miscreants that nobody's paying attention. If the window panes aren't replaced promptly, the next thing could be abandoned cars on the street, then panhandlers and drug dealers and prostitutes, and so on.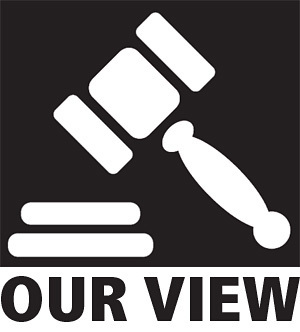 The simple but effective idea is that serious crimes can be deterred if relatively minor ones – such as public drunkenness, vandalism, and subway fare evasion – are discouraged. Stop the smaller crimes and the people committing them may not progress to bigger ones.
If the same approach were applied more assiduously by professional organizations and review boards, we'd probably have a lot fewer bad politicians, police officers, doctors, lawyers, etc. The ones called to account for minor infractions might not like being reprimanded, but the slap-downs would redound to their benefit in the long run if they were deterred from traveling down that slippery slope.
John Cassell and Mark Glover are two West Virginia attorneys who might have benefitted from early interventions.
Cassell had his law license annulled by the West Virginia Supreme Court of Appeals after he was convicted of sexual harassment of and indecent exposure to a would-be client. He'd been sentenced to one year in prison, but had gotten off easy with 12 months of unsupervised probation and a fine of $500.
Glover had his law license suspended for three and a half years after stealing money from a youth socer league for which he served as treasurer and later attempting to raise money via Go Fund Me in exchange for legal advice.
Late or not, their recent reprimands are good for society – and for them as well.