Woody Allen wasn't joking when he said that line we used as a headline. It was the essence of his advice to aspiring writers, many of whom never finish, or even begin, their first oeuvre. Having a completed manuscript is no guarantee of success, but not having one is a guarantee of failure.
Talent is nice, but it's not enough. Determination, persistence, follow-through – those are the prerequisites. Take the first step, then another and another, and keep going.
Show up at the appointed times and places.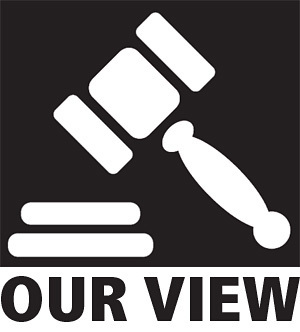 According to a complaint filed last month in Marshall Circuit Court, Wheeling attorney Elgine McArdle didn't show up, metaphorically speaking.
Alleging that she was ineptly defended in a lawsuit filed by the father of her child, former client Karen Coffield is suing McArdle for legal malpractice.
After her child's father filed a pro se civil action against her in 2013, Coffield retained McArdle as attorney and claims she provided McArdle with a copy of a Facebook post made by the father that "unequivocally showed that the father's civil action was time barred by the applicable statute of limitations."
Coffield contends that McArdle "filed a poorly drafted motion to dismiss and recklessly failed to raise the issue of the civil action being time barred by the applicable statute of limitations. Approximately one year later, defendant filed a supplemental memorandum in support of the motion to dismiss. Again, there was no mention of the applicable statute of limitations."
The motion to dismiss was denied. Years later, McArdle unsuccessfully filed a motion for summary judgment that again failed to cite the applicable statute of limitations.
In 2017, McArdle filed a motion to withdraw, forcing Coffield to retain new counsel.
Coffield's new attorney deposed the father and moved for summary judgment based on the statute of limitations. But the court responded that Coffield had "slumbered on her rights to have the case dismissed pursuant to the statute of limitations."
Coffield says McArdle was the one slumbering, not her.
If McArdle was asleep at the Wheeling courthouse, she should be held accountable.