Ever feel like you're just treading water, not really getting anywhere? It's discouraging. Still, it beats the hell out of being swept downstream and over the falls.
Dieting is like that. If you wanted to lose 40 pounds and only lost 10 before stalling out, you might be tempted to get disgusted with yourself for not losing the other 30, but don't give up. Look at it this way: so long as you haven't gained back the first 10, you're still better off than you were before – and closer to your goal.
Two years ago, when the last edition of the Lawsuit Climate Survey came out, we were elated to discover that West Virginia was ranked 45th out of 50 states. In other words, we had the 45th worst lawsuit climate in the country. That may not seem like something to get excited about, but, given that we'd been ranked 49th or 50th in every previous survey, that otherwise dismal performance represented real progress – and it went to our heads.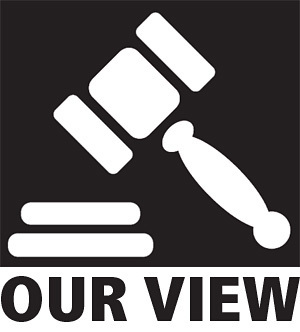 We started to fantasize about what our ranking might be in 2019 if we kept up the same pace of improvement. Maybe we'd move up another four or five positions in two years and come in at 41st or even 40th!
Pfft. It didn't pan out that way. We stalled out at 45th. Still, while we made no progress, we lost no ground, and we're no worse off than we were in 2017. Plus, we're still closer than we were four years ago to our ultimate goal of having one of the best lawsuit climates in the nation.
"If West Virginia wants to get out of the bottom 10, it needs to create an intermediate court of appeals," says Harold Kim of the U.S. Chamber Institute for Legal Reform, which owns this newspaper and commissions the biennial survey. "Right now, there is only one court that handles all appellate cases, which is a huge problem."
What are we waiting for? Let's establish that court and move on up. 2021, here we come!