"Okay, kids, the limo will be here soon, so put on your Sunday best and act classy. We're going to Steak 'n Shake!"
Isn't that what you say when you and your family are heading out for a gourmet meal at McDonald's or KFC or Taco Bell?
No, probably not. That would be overkill. Granted, you can get a decent meal at almost any fast-food restaurant – and Steak 'n Shake is arguably a cut above the rest in quality, if not fastness – but, still, you'd never mistake the food they offer for haute cuisine.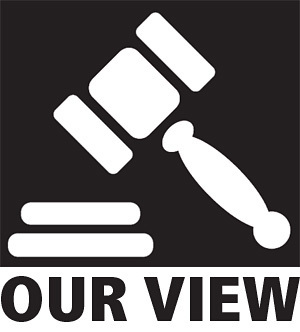 It is what it is. And the people who patronize such eateries are who they are, and that includes us. We don't dress up to go there and we don't much mind our manners while we're eating, either. We show up in tee shirts or tank tops and yoga pants or gym shorts and we chow down. When we finish, we may pile the remnants of our repast on a rectangular plastic tray and dump it all in the bin where it belongs, or we may just leave the mess for the harried teenagers who work there.
If we do clean up after ourselves, however, and carry off that tray of trash, there's a good chance we'll spill something on our way out. Not to worry! One of those harried teenagers will come behind us and clean it up, eventually. In the meantime, we've created a hazard for fellow diners, but that's their problem, right?
Is any fast food fan so obtuse as to not know the obvious hazards associated with facilities offering such fare?
One, at least. Sherry Buckner of Boone County never expected to find grease on the floor at the Barboursville Steak 'n Shake on Aug. 7, 2017, but she found it, slipped on it (allegedly), and filed suit two years later in Cabell Circuit Court against the franchise outlet's owner.
Give her a coupon for a free Pumpkin Spice milkshake and tell her to watch her step next time.